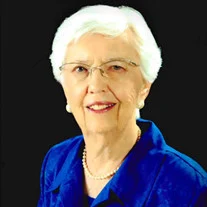 Mary Elizabeth "Lib" Gudger Knox of Mooresville, N.C., passed away on December 21, 2022, at the age of 100 after a brief illness.
She was the youngest of 10 children born to Ada Gouger and James Craig Gudger in south Iredell County, between the towns of Mt. Mourne and Davidson, N.C. Lib graduated from Davidson High School. She married Joseph Vandon Knox in 1941, and the couple settled in Mooresville, where they raised three children, Carolyn, Van, and Judy.
Lib's husband, Joe, was mayor of Mooresville from 1969-1999 making her the First Lady of Mooresville for 30 years, a position she filled with grace and dignity. She certainly made the saying, "Behind every great man is a great woman" true.
In the mid-80s, Lib helped open a branch office of Knox Realty, where she was co-owner and manager.
She was an excellent seamstress and wonderful cook. She loved life and her family. Lib was a member of the Mooresville Golf Association and scored a hole-in-one on the local course. She belonged to a bridge club and enjoyed playing for years. She crocheted, worked jig-saw puzzles, and in later years did word searches. Right up until the end, she stayed active and especially liked to dine out.
Lib was a woman of strong faith and an active church member her entire life, most recently at Prospect Presbyterian Church.
Mrs. Knox is survived by her children, Carolyn Louise Sigmon (Lannie), Joseph Vandon Knox Jr. (Violet), and Judith Ann Marsh (Steve); five grand-children, Todd Sigmon (Christine), Marc Sigmon (fiancée Kara), Jeff Knox (Jenn), Lauren Marsh, and Parker Marsh (Amy); and eight great-grandchildren, Jonathan Sigmon, Joseph Sigmon, Audrey Sigmon, Joshua Knox, Jemma Knox, Paige Quinn, Parks Marsh, and Luke Marsh, as well as numerous nieces and nephews.
Preceding her in death, in addition to her parents, were seven brothers, James Gudger, Jesse Gudger, Craig Gudger, Charles Armour Gudger, Robert Gudger, Patton Gudger, and Frank Gudger; two sisters, Ellis Norvell and Isabelle Sigmon; and step-grandson, Jason Hamilton.
Interment will be a private event for the family at Glenwood Memorial Park. The celebration of life service will be held at Prospect Presbyterian Church at 2 p.m. on Tuesday, December 27, with Rev. Will Gipe officiating. Visitation will be held immediately following the service in the family life center.
Memorials may be made to Prospect Presbyterian Church, 9425 NC-152, Mooresville, NC 28115.
Cavin-Cook Funeral Home & Crematory, Mooresville, is serving the family of Mrs. Knox. Condolences may be made to the family at www.cavin-cook.com.