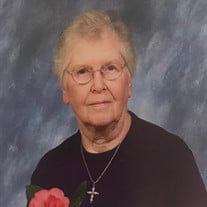 Mary Ruth Parker, 90, of Mooresville, N.C., passed away on February 1, 2022. She was born December 9, 1931, in Pembroke, Ga., to the late Tom and Lola Newman Hutchinson.
Ruth was raised in Georgia on a farm before marrying the love of her life, Bill Parker. They eventually moved back to Mooresville, where she lived for 50 years. Ruth loved God and serving in her church. She was the head of the prayer ministry for many years and always involved in spreading the love of God through any avenue available to her. Ruth was a mentor to many people, She loved to work in the yard and sharing Christ with anyone that she could. She always enjoyed spending time with her family and friends. Her sons and grandchildren were the light of her life. She was loved by her family and friends and will be deeply missed.
In addition to her parents, Ruth was preceded in death by her husband, Bill Parker; and a son, Bill Parker.
She is survived by her son, Tom Parker; grandchildren, Lindsey and Mike Parker; and great-grandchild, Brayden Parker.
A visitation will be held on Sunday, February 6, 2022, from 2 to 3 p.m. at Park Avenue United Methodist Church, Mooresville, N.C. A memorial Service will follow at 3 p.m. with the Rev. Vickie Wilson officiating.
In lieu of flowers, memorial contributions can be made to Park Avenue United Methodist Church, 648 W. Park Avenue, Mooresville, NC 28115
Cavin-Cook Funeral Home & Crematory, Mooresville, is serving the Parker family. Condolences may be made to the family at www.cavin-cook.com.