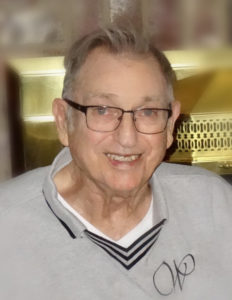 On August 26, 2022, Max Edward Waugh, 87, loving husband, father, grandfather, and great grandfather, had a peaceful deliverance into glory. Max was born on May 23, 1935, in Iredell County, N.C., to Roy A. and Bethy Dagenhardt Waugh. Max graduated from Troutman High School and then worked at the Douglas Missile Plant, Western Southern Insurance (25 years), and began Waugh's Lawn Care before retiring. He was a long-time member of Western Avenue Baptist Church, serving in various capacities over the years, and a member of the Gideons International.
On September 28, 1956, he married Carrie Jane Holland, the love of his life, enjoying nearly 66 years of marriage, family, fishing, travel, and living on Lake Norman for the past 29 years. Through his winning, warm personality, Max never knew a stranger and was generous with all he had, welcoming anyone into his home to share a laugh, good story, or a sunset boat ride while always giving glory to God for his blessings. He was a hard-working man skilled in many areas and loved woodworking and carpentry, which he enjoyed using in the construction of their lake home.
In addition to his parents, he was preceded in death by three sisters, Vivian D. Short (Lowell), Pansy W. Mills (Jack), and Sarah Christine Waugh; and one brother, Roy E. Waugh.
Surviving relatives include sister-in-laws Aileen G. Waugh and Betty H. Souther (Carl). Max and Jane have three children, David E. Waugh (Lisa), Max J. Waugh (Rhonda), and Anita W. Cook (John); ten grandchildren, Tyler Waugh (Rachel), Jennifer Prestidge, Brandon Waugh (Beth), Tanja Hudson (Tom), Maxwell Hughes, Teagan Kuwana (Aaron), Joshua Kielsmeier-Cook (Stina), Bethany Wike (Jonathan), Benjamin Cook (Kirsten), and Lydia Cook; and thirteen greatgrandchildren, Alex, Aaron, Isabella, Carson, Eliza, Brandon, Madelyn, Hunter, Rowan, Harper, Everly, Maya, and Oakley (due in November).
A visitation will be held Thursday, September, 1 from 2 to 3 p.m. at Western Avenue Baptist Church. Funeral services will be held at 3 p.m. with burial to follow at Oakwood Cemetery.
The family wishes to express their deep gratitude to Hospice and Palliative Care of Iredell County and special personal caregiver, Missy Ellis, for their loving support and care.
In lieu of flowers, memorials may be made to the Gideons International or the Cystic Fibrosis Foundation. Please see their respective websites for giving details.
Troutman Funeral Home is serving the family.