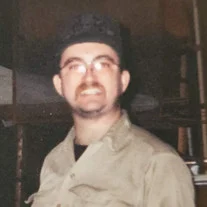 Michael "Mike" Lynn Goodman, 65, of Mooresville, N.C., passed away peacefully on Sunday, April 17, 2022, at home.
He was born September 29, 1956, in Mooresville, son of Vance and Hazel Goodman. Mike served in the United States Coast Guard, which grew his love for history. He worked at Cummings as a Diesel Mechanic and later at Freightliner, from where he retired as a Materials Handler Supervisor. Mike was a hardworking man who enjoyed listening to his radio on the porch and leisure driving on the back roads. He was a simple man. Mike enjoyed deer and bear hunting when time allowed while raising his seven children. He will be greatly missed by his family and friends.
He was preceded in death by his father, Vance; and sons, Michael Jr. and Stephen.
Mike leaves behind his wife of 44 years, Kathleen; children, Jennifer, Thomas, Christine, Andrew, and Matthew; six grandchildren; mother Hazel; and brother Randy; along with their spouses and families.
The family will receive friends on Monday, April 25, from 6 to 7 p.m. at Cavin-Cook Funeral Home. A graveside service will be held at 9 a.m. on Tuesday, April 26, at the Salisbury National Cemetery with Rev. Mark Lawlor officiating.
The family would like to extend their sincere appreciation to all the VA nurses, physicians, and staff, friends and family for their unwavering compassionate and supportive care that was provided. Your love and kindness will never be forgotten.
Cavin-Cook Funeral Home & Crematory, Mooresville, is serving the Goodman family. Condolences may be made to the family at www.cavin-cook.com.