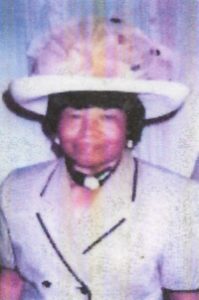 Mildred Davidson Shelton, 95, of Statesville, N.C., passed away on September 19, 2022.
Mildred was born on May 14, 1927, in Iredell County. She was the daughter of the late Clarence Davidson and Goldie Heath Davidson. In addition to her parents, Mildred was preceded in death by her son, Dr. Sherman Shelton Jr.; one granddaughter Imani; and several brothers and sisters.
Mildred attended college at Winston-Salem University. Later she chose a career in the health care field. She worked at UNC Chapel Hill for over 20 years until she no longer could. When she was able, Mildred enjoyed attending church at Grays Chapel Church in Statesville.
Mildred leaves behind to cherish her memory, her grandson, Segun; and numerous nieces and nephews.
On Friday, September 23, a visitation will be held at Reavis Funeral Home of Statesville from 1 to 2 p.m. Following visitation, a graveside service at Oakwood Cemetery will take place beginning at 2 p.m. Pastor Rodney Barker will officiate the service.
The staff at Reavis Funeral Home of Statesville is honored to serve the family.