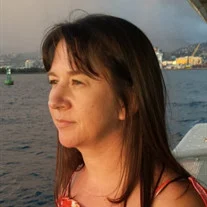 Misty Lynn Barnes-Pigg, 54, of Mooresville, N.C., passed away on Monday, October 24, 2022. She was born on November 16, 1967, in Ames, Iowa, to Ron and Marla Kay French Barnes of Gray Court, S.C.
She enjoyed reading, cross stitch, traveling, and hiking. Mostly, Misty loved her family and friends. She will be greatly missed.
In addition to her parents, she is survived by her husband, Robin Pigg; daughter, Katie Pigg of the home; sons, Austin Pigg of the home, Ryan Jeambey of Oakwood Hills, Ill, and Ross Jeambey of Washington, D.C.; brothers, Mike Barnes of Ames, Iowa, and John Barnes of Ayden, N.C; and grandchildren, Nicholas, Henry, Jackson and Lilly Jeambey.
A service will be held at a later date and announced by the family.
Cavin-Cook Funeral Home & Crematory, Mooresville, is serving the family. Condolences may be made to the family at www.cavin-cook.com.