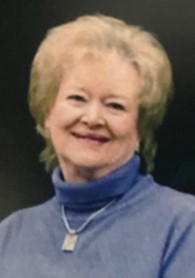 It is with great sadness that the family of Novella Faye Haneline Brown announces her passing on Monday, June 13, 2022, at the age of 76.
Novella was born on June 11, 1946, in Iredell County, N.C., to the late William Clyde Haneline and Madia Swaim Haneline.
She graduated from Cool Springs in 1964 and also graduated from Statesville Business College. She was employed by Bet & Bo, JC Penny Warehouse & Catalog and retired from Kmart after 25 years in 2009.
She enjoyed sewing for her family and the public, shopping, vacations with her family, and cheering on her grandchildren at band competitions, volleyball and cheerleading events.
She married Leonard Kelly Brown on June 25, 1966, and was devoted to him for 55 years. Novella was also a member of Monticello United Methodist Church for 55 years and enjoyed preparing meals for church members and helping with the chicken BBQ fundraisers.
Those left to cherish her memory are her husband, Leonard Kelly Brown; her son, Darin Keith Brown and wife Kelly, her daughter, Dana Brown Tilley and husband Shoun; and son, Joel David Brown and wife; her sister Bonita Haneline; and a niece and nephew.
Also left to cherish the memory of their "Na-Na" and "Mimi" memory are her beloved grandchildren, Caleb Anthony Brown, Sarah Ann Brown and Emily Nicole Brown.
A service to celebrate the life of Novella Brown will be held at 2 p.m. on Monday, June 20, 2022, at Monticello United Methodist Church with Rev. Cokie Bristol officiating. The family will visit with friends at 1 p.m. at the church. Burial will follow the service at Iredell Memorial Gardens.
Memorials may be made in her memory to Monticello United Methodist Church, 308 Island Ford Road, Statesville, NC 28625 and Hospice and Palliative Care of Iredell County, 2341 Simonton Road, Statesville, NC 28625. The family wishes to thank the nurses and staff at HPCIC for their care of our beloved mom.
Troutman Funeral Home is serving the family.