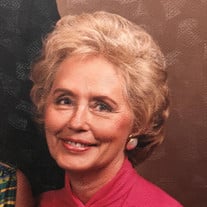 Kathryn Eddings Johnson, 94, formerly of Statesville, N.C., passed away peacefully on June 11, 2022, at Atrium Pineville Hospital in Charlotte, N.C. Born in Pickens, S.C., on September 13, 1927, she was a daughter of the late Thomas Bates Eddings and Edna Gravely Eddings.
She was a member of First Baptist Church of Statesville and spent much of her early career as a church secretary. She also worked at the U.S. Geological Survey in Raleigh and Hunter Realty and Boan Building in Statesville.
In addition to her parents, she was preceded in death by her husband, the late Rev. Leath C. Johnson.
Survivors include a son, Rick Johnson and his wife Nunthany; a daughter, Lisa J. Morgan and her husband Donald; along with two grandchildren, Chase Morgan (Christina) and Conner Morgan. Several Nieces and Nephews and grand dogs also survive. Kathy was a devoted wife and mother. She was selfless, kind and accepting of everyone around her.
Services celebrating Kathy's life will be conducted at 11 a.m. Saturday at Nicholson Funeral Home with Rev. James Lewis officiating. The family will speak with friends for 30 minutes prior to the service and burial will follow at Oakwood Cemetery.
Condolences may be sent online to the family to www.nicholsonfunerals.com. Memorials may be given to First Baptist Church, 815 Davie Avenue, Statesville, NC 28677 or to Hospice & Palliative Care of Charlotte, 7845 Little Road, Charlotte, NC 28226.
Nicholson Funeral Home, 135 E. Front Street, Statesville, N.C., is entrusted with the arrangements.