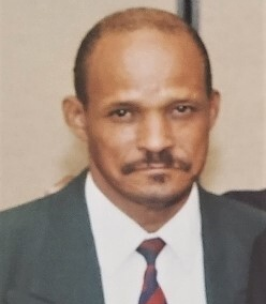 Mr. Opah Reid Dalton, 74, peacefully departed this earthly life on Saturday, November 26, 2022, at Augusta University Medical Center in Augusta, Ga. Opah was born on July 22, 1948, to the late Clarence Dalton Sr. and Estie Mae Holmes Dalton in Harmony, N.C.
Opah was educated in the Iredell County School System. He was a faithful and active member of Pleasant Hill Baptist Church in Hamptonville, N.C., before residing in Georgia. He attended Broadway Baptist Church in Augusta, Ga.
Opah worked on various jobs obtained through vocational rehabilitation. He did an exceptional job at work and his home chores. He used to say, "I put a spit shine on the kitchen floor." He could really make a floor look new. Mowing the yard was another of his chores. He did a good job, but some new parts might be needed for the lawnmower periodically. Opah took pride in the things he did well.
Opah knew "everybody" in Harmony, and he never met a stranger. If he liked someone, they might get a heavy hand slap on their back. He always greeted people with a smile and a slap on their back. All the men who married into the family have had this experience. He could really be comical without trying.
Family was important to Opah. He enjoyed family gatherings, especially family reunions. He enjoyed eating good food. His mother exposed him to good homemade foods.
In addition to his parents, Opah was predeceased by his sisters, Mary Belle Dalton Murdock Ramseur, Bobbie Jean Dalton Morrison O'Garro and her first husband, Robert Morrison Sr., Shirley Mae Dalton Smyre, and her husband, Robert L. Smyre Jr., and Yvonne Dalton Waddell and her husband, Kenneth Waddell. He was also predeceased by his brother, Clarence Dalton Jr. and his sister-in-law, Jean Berry Dalton, and Rosemary Dalton and brother-in-law, Lee Colden.
Surviving are his siblings, Gordan McKay Dalton of Harmony, George Franklin (Sierra) Dalton of New Jersey, William Craig (Beatrice) Dalton of Georgia, and Maxine Dalton Colden of New Yorrk. He is also survived by one brother-in-law, Jacob O'Garro of New York. Opah is survived by many nieces, nephews, cousins, and friends.
A Celebration of Life service will be held on Monday, December 5, 2022, at 11 a.m. in the Mary B. Bigham Memorial Chapel at Rutledge and Bigham Mortuary, Statesville. Visitation will be from 10:30 to 11 a.m. at the funeral home. Reverend Robin Williams will officiate the service, and burial will follow in the Pleasant Hill Church Cemetery.
Visit the Book of Memories for Mr. Dalton at www.rutledgeandbigham.com.
Rutledge and Bigham Funeral Home is serving the Dalton family.