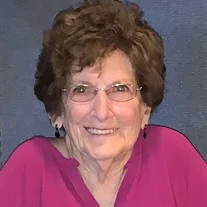 Eunice "Betty" Hayden Causey, 99, of Mooresville, N.C., passed away on Monday, November 28, 2022. She was born on February 21, 1923, in Oakland, Calif., to the late John Marshall Hayden and Eunice Dean Murphy.
In addition to her parents, she was preceded in death by her husband, James Daniel Causey; and brother, Larry Hayden.
She is survived by her children, James Daniel Causey II, Terry Marshall Causey, Cindy Griger (Mark), Christina Royal (Craig), and Burns Causey; grandchildren, Missy, Cheryl, James, Carrie, Jennifer, Jesse, Logan, and Austin; great-grandchildren, Luke, Codi, Kolt, Dakota, Dyllan, and Dawson; and many nieces and nephews.
A gathering will be held at 3 p.m. on Saturday, December 3, 2022, at Cavin-Cook Funeral Home, Mooresville.
In lieu of flowers, memorials may be made to South Iredell Senior Center, 202 N. Church Street, Mooresville, NC 28115 (704-662-3337).
Cavin-Cook Funeral Home & Crematory is serving the family.