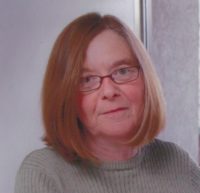 Pamela "Pam" Joan Englebert passed away at her home on Friday, November 4, 2022.
Pam was a joy to know and to be around. She loved making "Old Time" music and all of the many folks with whom she played. She valued her years at Central Piedmont Community College and, following her retirement, missed the many friends she made while employed there.
Survivors include her mother, Betty J. Englebert; a brother and sister-in-law Charles "Curt" and Mary F. Englebert; two nephews, Alec Englebert (Star) and Garrett (Lauryn) Englebert; nephew, Ian Englebert; and niece, Tabitha Levy Englebert.
She was preceded in death by her father, C.B. Englebert.
A memorial service will be held at a later date. Family and friends will be notified of a graveside memorial service to be held in the spring. Those wishing to be notified should send preferred contact info to mfengleb@gmail.com
In lieu of flowers or other tributes, the family requests memorials be directed to St. Jude's Research Hospital (https://www.stjude.org/give.html) or to Central Piedmont Community College Foundation, P.O. Box 35009, Charlotte, NC, 28235, or online at cpccfoundation.org/donation.
Cremation Society of Charlotte is serving the family.