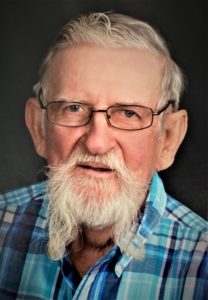 William Clyde Anderson, 85, passed away on Saturday, November 12, 2022. He aas born June 2, 1937, to the late Clyde Anderson and Eva Harris Anderson.
William loved Joyce, his wife of 45 years; farming the land he grew up on; listening to bluegrass music; dancing; relaxing at the beach with family; tending his cattle; racing, and going to auctions. He loved his children, grandchildren and great grandchildren.
He is survived by all the following siblings, Vercie Lanning, Lessie Privette, Mildred Miller, Wilma Laws, Christine Vite and spouse Jerry, Herman Anderson and spouse Betty and Margie Abernathy; and his first wife, Linda Eason. He is also survived by his children, Tracey Gibson and spouse J. Creighton Gibson, Angie Koester and spouse Brian, and Jennifer Weber and spouse Adam; and grandchildren, Joe and Zeb Weber, Brittany Gibson, Evan, Helena and Zachary Hendricks; and six precious great grandchildren.
William retired after 31 years of employment with Fibers Industries in Salisbury, N.C.
A visitation for the Anderson family will be held Wednesday, November 16, 2022, from 6 to 8 p.m. at Troutman Funeral Home. A funeral service will be held Thursday, November 17, 2022 at 3 p.m. at Countryside Baptist Church with Reverend Dr. James Smith officiating. The burial will follow the service at the church cemetery.
In lieu of flowers, donations may be made to Hospice of Iredell County. Online condolences can be made to the family at www.troutmanfuneralhome.com.
Troutman Funeral Home is serving the family.