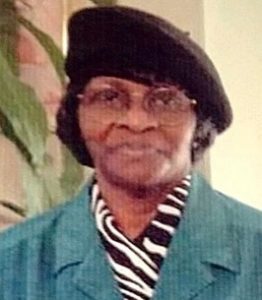 Mrs. Panella Lucille Calhoun was born in Calhoun Falls, S.C, on May 17, 1931, and was the daughter of the late Garrison Lee and Lula Napolean Heard. She departed this life on August 8, 2022, at Iredell Memorial Hospital in Statesville, N.C.
She attended school in Calhoun Falls, S.C., and at the age of 18 she married John C Calhoun Sr. and later relocated to Washington, D.C. While in Washington, she retired early from the hospital and worked part-time teaching sewing classes at Theodore Roosevelt Senior High School before becoming a full-time devoted housewife. Following the leadership of her husband, the family and their church moved to Statesville, N.C., in the late 1970s.
She began to fellowship with Refuge Church of Christ in Troutman, N.C., in the early 1990s under the leadership of Bishop Ralph White. She took the right hand of fellowship in 1996 at Rapture Preparation Church of Christ #5 in Statesville under the leadership of Bishop Brian Caines. From 2016 until her passing, she was a member of Rapture Preparation Church of Christ #5 in Statesville, under the leadership of Elder Leonard Hayes.
Her dedication and contributions to her church family and the community touched so many lives.
In addition to her parents, she was preceded in death by her husband, John C Calhoun Sr.; two sons, Franklin Calhoun and Floyd Calhoun; five brothers, J.W. Heard, Pressley Heard, Moses Dubose, Harden Lee and Isom Heard; three sisters, Mildred Johnson, Eliza Bishop and Annie Florence Hood; sisters-in-law, Lizzie Heard, Leanna West, and Sarah Calhoun; brothers-in-law Willie Hood, William Andrew Calhoun, James Calhoun, and David Calhoun; granddaughter, Angel Shereta Calhoun; great-grandson, DeShaun Calhoun; and special lifetime friends, Mother Ima Taylor and Mother Eula Bell Mayfield.
She leaves to celebrate the memory of her life two daughters, Diane Bingham and Rebecca Calhoun of Statesville; two sons, John C Calhoun Jr. of Statesville and Mitchell Calhoun of Greensboro, N.C.; one brother, Willie Heard of Washington, D.C.; one sister, Margaret Crutchfield of Philadelphia, Pa.; five grandchildren, Shante, Franklin, Pressley, Tejuen Sr., and Micaela; fourteen great-grandchildren, Trenton, Demetrice, Trinity, Pressley, Ava, Elijah, Tejuen Jr., Subrea, Dayente, Makayla, Malakai, Eric Jr., Isaiah and Mercedes; one great-great grandson Nehemiah; her special caregivers, Micaela Beam (granddaughter), Subrea Calhoun (great-granddaughter) and devoted daughter Diane Bingham; adopted son, Michael L Turner; special daughter, Kimberly James; special and dear friends, Sis. Mary Dobbins, Sis. Mammie Simmons, Bro. Jerome Borum, Sis. Dorris Mayfield and a host of nieces, nephews, cousins, other relatives and friends.
A Celebration of Life Service will be conducted, Monday, August 15, 2022, at 1 p.m., at Christian Outreach of the Piedmont, Statesville. The family will receive friends from 12 to 1 p.m., at the church. Burial will follow in the Iredell Memorial Park.
Visit the Book of Memories for Mrs. Calhoun at www.rutledgeandbigham.com.
Rutledge & Bigham Funeral Home is serving the Calhoun family.