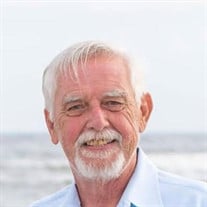 Patrick Charles Rowland, 73, of Statesville, N.C., passed away surrounded by family on December 29, 2021, after being diagnosed with lung cancer in the spring of 2021. He was born December 14, 1948, in Albuquerque, N.M., and though he lived many places in his life, he moved back to Statesville in 2021 to spend the rest of his days with some of his family who loved him dearly.
Pat joined the Army shortly after high school and became a Sergeant in the 10th Special Forces (Green Berets). After leaving the military, Pat's career focused on his love of helicopters. He started the 4th air ambulance in the country, flew from California to Virginia and back to obtain his commercial pilot's license, and attended university classes at Weber State University in Utah. Pat loved hunting and fishing in his free time, but he will be most remembered for his love of telling stories to family and friends.
Pat is survived by his mother, Juanita Lorraine Rowland; and two sisters Connie Royal and Elaine (Larry) Janowski. He is also survived by his three children, Wayne (Bobbi) Rowland, Joshua (Jessica) Rowland and Jenna (Tylar) Temple; and his six grandchildren, Christopher Rowland, Hunter Rowland, Masyn Rowland, Lucas Rowland, Josephine Temple and Quinton Temple. Pat married and divorced Wanda Thomas, mother of Wayne. In 1982, Pat married Kathie Rowland, mother of Josh and Jenna, and they were married for 36 years. He returned to North Carolina to live with Kathie, who cared for him in his final months.
He was preceded in death by his father, Charles Rowland, and brother, Shawn Rowland.
A memorial service will be held at Nicholson Funeral Home, 135 Front Street, Statesville, NC 28677 on January 27, 2022, at 11 a.m., followed by a placement with military honors at Salisbury National Cemetery at 2 p.m. In honor of his life please consider making any memorial contributions to the American Lung Association or Hospice & Palliative Care Lake Norman.
Nicholson Funeral Home is serving the family.