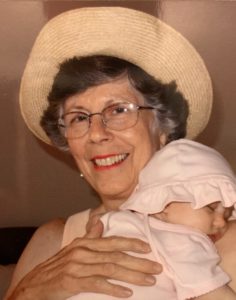 Patsy Nell Bost Abell passed away peacefully in her sleep during the early morning hours of May 30, 2022. Pat was born in Knoxville, Tenn., on January 28, 1943. She was the daughter of Ernest Conley Bost of Bee Tree, N.C., and S. Ruth Ballance of Kenly, N.C.
Her parents moved to Marion, N.C., when she was two. She graduated from Pleasant Gardens School, where she excelled in basketball and took great pride in being one of the first female bus drivers. Pat attended UNC Chapel Hill, where she received her bachelor's degree in Physical Therapy. While at Chapel Hill, Pat met J. Curtis Abell, whom she married in 1964.
Two years later the Abells moved Lexington, Ky., where she loved to work as an in-home physical therapist in several neighboring eastern counties while he completed his pediatric training. Pat and Curtis then traveled to Klamath Falls, Ore., where both of their sons were born during his service in the U.S. Air Force.
The new Abell family arrived in Statesville in 1972. Pat was initially a homemaker but soon began to work as a physical therapist at Iredell Memorial Hospital, where she remained for 33 years. She was noted for her vivacious personality and for her caring thoughtfulness. She touched the lives of many persons and lifted the spirits of many patients.
Pat's interests and hobbies included promoting the careers of young women through A.A.U.W., making clothes for her family, reading, listening to music, outdoor activities, traveling, supporting various charities, and in her later years, making quilts and associating with her beloved quilting group.
Pat was preceded in death by her parents and her brother, C. Daniel Bost of Morganton, N.C.
Surviving family members who will always remember and cherish their time with her are her husband of 57 years, Dr. James Curtis Abell; her sons, James Anthony "Tony" Abell and wife Cari of Lorton, Va., and their daughters, Rylee Marie Abell, Wesli Ruth Abell, Marly Elizabeth Abell; Dr. Geoffrey Alan Abell of San Diego, Calif., and his children, Juliet Antonia Abell, Oliver James Alexander Abell, and Felix Henry Abell; and her brother, Dr. Michael E. Bost and wife Merlyn of Winston-Salem, N.C.
A celebration of life service will be held within the next several weeks and will be announced via a future posting.
The family expresses their gratitude to the medical personnel who have been especially involved in Pat's prolonged and complicated medical journey. Special thanks go to Dr. James Foushee, her exceptionally compassionate primary physician, to Dr. Ruby Grimm and her caring office personnel, to Dr. Sinasi Salman and the Statesville Dialysis Center staff, to Dr. Jim Bradford and his kind manner, and to Dr. Allen Romeo for his generous and valuable advice to Pat's husband and caretaker. Also, we want to voice our gratitude to all those blood donors who selflessly contribute.
Those wishing to make memorials in her memory are asked to consider: American Association of University Women (AAUW), American Cancer Society, National Kidney Foundation, American Heart Association, and St. Jude's Children's Hospital.
Troutman Funeral Home is serving the family.