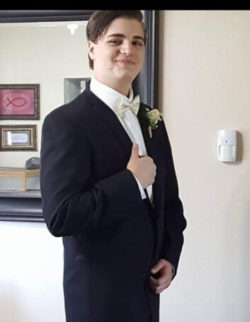 Austin Dain LeVan, 22, of Statesville, N.C., passed away on Thursday, June 2, 2022.
Austin was born on January 26, 2000, in Iredell County and was the son of Halbert Craig "Dusty" LeVan and Angi Beckham LeVan. Austin was a 2018 graduate of West Iredell High School. He enjoyed gardening, collecting rocks, outdoors and all things nature.
Austin was preceded in death by his grandfather, Halbert Franklin LeVan of Hiddenite; cousin, Reese Beckham of Statesville; and aunt, Robin Beckham of Statesville.
Those left to cherish his memory are his parents, Dusty LeVan and Angi LeVan, both of Statesville; maternal grandparents, Roy and Jessie Beckham of Statesville; paternal grandparents, Lesley and Nancy LeVan-Little of Hiddenite; uncles, Randy Beckham (Dee) and Doy LeVan (Sandy), both of Statesville; and aunt, DiDema LeVan Dagenhart (Jeff) of Hiddenite. Also surviving are his cousins, Raiden Beckham, Rowin Beckham, Brennan Dagenhart, Kaley Fox and Jacob LeVan; and special friends, Louis Brinskelle, David Sherrill and Chris Nichols.
A visitation will be held Sunday, June 5, from 2 to 4 p.m. at Troutman Funeral Home. Funeral services will be held at 4 p.m. with Rev. Steve Dagenhart and Rev. Keith Bowman officiating. Burial will follow at Oakwood Cemetery.
Online condolences may be made to the family at www.troutmanfuneralhome.com.
Troutman Funeral Home is serving the family.