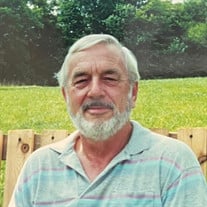 Paul Jennings "PJ" Cline was welcomed home by his Creator on Oct. 14, 2022. He was 85 years old. He was loved as a brother, husband, father, grandfather, and friend. His spirit, his wit and his heart will be missed. In this world, his faith guided every one of his steps, and now it has led him home.
PJ was an outgoing, gregarious man who never met a stranger. Born in Logan County, W.Va., he was the son of Joseph Paul Cline and Eva Mae Cline Montague. He was gifted with a relentless energy (his mother called him "Zippy"), and he used this energy throughout his life as a Marine, businessman, and friend.
After graduating from Nitro High School, he joined the Marines, where he became a Rifle Expert, Pistol Sharp Shooter, and Drill Instructor. He was a lifelong entrepreneur, owning multiple businesses in a variety of fields. He loved his family and friends, and he let it show.
He was the kind of man who was tough enough to be a Marine Drill Instructor, and yet tender enough to make sure his children's birthdays were always a big deal, no matter how tight the money was.
PJ possessed an incredible faith, making him a "go-to" Prayer Warrior. He had a personal relationship with Jesus that carried him through many of life's troubles. This Marine has now fought his last battle. He has gone Home now to be with his Savior.
In his work life, at Bernhardt, Hope Brothers and then L. Gordon, he was more family than employee, and he loved the people he worked with and made sure they knew it. He worked at L. Gordon until he was 80 years old, still making friends all along the way. Even in his final years, at Davie Nursing and Rehabilitation, he kept his sense of humor and his fighting spirit. COVID was hard on him, but he still enjoyed his Facetime visits with his family. He would light up upon seeing them, and his sense of humor was contagious.
PJ was proceeded in death by his wife, Wanda Cline; and by his sister, Terri Cline Easton. He is survived by former wife Betty Limer; and brothers, Kenny (Dottie) Cline, Randy (Sandy) Cline, Johnny (Susie) Montague, Scott Cline, and Ronald Cline (Tony Makim); and sisters, Evelyn Newman and Nannette Sowards
He is also survived by daughters Kelle (Jeff) Mayfield and their children Jack and Jillian, and by his daughter Paula (Paul) Gast and her children Christopher and Corynn and his great-granddaughter Sophia Stephens-Lopes.
Nicholson Funeral Home is serving the family.