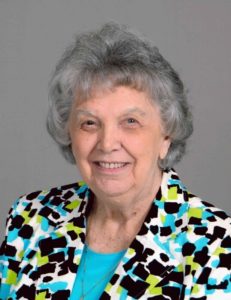 Peggy Ann Kirkman Chamberlain, 89, of Statesville, N.C., went home to be with her Lord on Friday, April 22, 2022, at Gordon Hospice House.
Peggy was born June 17, 1932, in Alexander County to the late Harry L. Kirkman and Claudia T. Kirkman. She married Billy Chamberlain on April 15, 1951. Peggy was blessed with two daughters and two grandchildren, whom she loved dearly. Peggy retired from the Statesville Country Club after 25 years.
In addition to her parents, Peggy was preceded in death by her husband, Billy Chamberlain; sister, Kathleen K. Little; and brother-in-law, Bryce Little.
Those left to cherish her memory are her daughters, Gale C. Morrow (Joe) and Teri A. Chamberlain; grandchildren, Matthew C. Morrow (Lacie) and Hannah M. Ogg (Shane); sister, Nancy K. Sharpe; nephew, Benny H. Sharpe Jr.; and niece, Constance I. Sharpe.
A graveside service will be held at 4 p.m. on Monday, April 25, at Oakwood Cemetery with Rev. Jeff Spry officiating.
In lieu of flowers, memorials may be made to Western Avenue Baptist Church at 1206 Museum Road, Statesville, NC 28625 or Gordon Hospice House at 2341 Simonton Road, Statesville, NC 28625.
Troutman Funeral Home is serving the family.