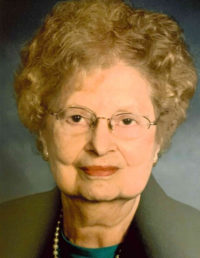 Peggy Gilreath Sharpe, 98, of Statesville, N.C., passed away on Thursday, October 27, 2022, at Gordon Hospice House.
Peggy was born on March 20, 1924, in Alexander County to the late Charlie Grade Gilreath and Daisy Bunton Gilreath. She was a member of Monticello Baptist Church and was retired from Stimpson Hosiery and Beauty Maid Mills. In her earlier years, she enjoyed quilting, sewing, embroidery, gardening and canning. Peggy made the best cream corn and candied yams you ever tasted.
In addition to her parents, Peggy was preceded in death by her husband of sixty-five years, J.C. Sharpe, who passed in 2015; brothers; Wayne, Jim, Gene, Lynn, Frank and Larry Gilreath; sister, Phyllis Gilreath; and infant daughter.
Peggy is survived by her daughter, Karen S. Drye (Jeff); granddaughter, Hannah D. Mentzer (Marcus); sister, Carol Millsaps (Archie) and numerous nieces and nephews.
Funeral service will be conducted at 3 p.m. Tuesday, November 1, 2022, at Monticello Baptist Church. The family will receive friends from 2 to 3 p.m. Burial will follow in Oakwood Cemetery.
The family would like to extend heartfelt thanks to the Gordon Hospice House for their love and care of Mom during this difficult time.
In lieu of flowers, please consider memorials to the Gordon Hospice House.
Troutman Funeral Home is serving the family.