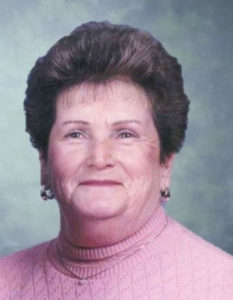 Peggy Sue Stevenson Matheson, 86, of Troutman, N.C., passed away June 5, 2022, at the Gordon Hospice House in Statesville, N.C.
Peggy was born June 26, 1935, in Iredell County and was the daughter of the late Leo and Mabel Baker Stevenson. She attended Statesville Senior High School and was married to the late Calvin Mower Matheson, who passed away March 16, 2017. She was a member of Fallstown Baptist Church and was a retired seamstress for Gilliam Furniture.
In addition to her husband, she was preceded in death by two sons, Philip Quintin Matheson in 2018 and Calvin Keith Matheson in 1959; one daughter, Cynthia Coley, in 2017; one sister, Linda Casey; and a son-in-law, Ronnie Coley.
She is survived by a daughter-in-law, Debra "Debbie" Smith Matheson of Statesville; five grandchildren, Nichole M. Bradburn (John), Philip Scott Matheson (Shanea), Chad Smith Matheson (Tish), Shane Coley, and Angela Coley; and 11 great grandchildren, Cole, Callye, Dylan, Aleesha, Hailey, Chase, Tre', Tyler, Landon, Lyrik, and Alexis; and four great great grandchildren, Brixxy, Azalea, Addie and Waylon.
Funeral services will be held at 2 p.m. on Wednesday, June 8, 2022, at Fallstown Baptist Church with Rev. David Troutman officiating. The family will visit with friends from 1 to 2 p.m. Burial will follow in the Iredell Memorial Gardens Cemetery.
Memorials may be made to Fallstown Baptist Church.
Troutman Funeral Home is serving the family.