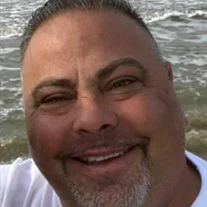 It is with a heavy heart that we share the passing of Philip Renaldo Castronovo Jr., 48, of Mooresville, N.C., and formerly of Utica, N.Y., on Monday, July 25, 2022, with his loving and devoted family by his side.
Phil was born in Utica, N.Y., on August 31, 1973, the son of the late Philip Renaldo Castronovo and Jeanette Commisso. On October 11, 1997, he married his soulmate, Cortney Gamel. They shared a marriage deeply rooted in mutual respect, loyalty, and laughter. United together, they raised a beautiful close-knit family, providing an exemplary foundation of love, dedication, and perseverance.
Phil was a self-proclaimed "professional" but focused most of his work on his passion for all things automotive. He recently accepted a position with the Iredell-Statesville Schools District and was looking forward to the new opportunity.
Phil could often be found tinkering in his garage; detailing, repairing, or turning anything with a motor brand new again. He loved boating, ice hockey, and enjoying time with his family. He truly enjoyed cooking and although he never got the chance to open a pizzeria, a lifelong dream he had, he made up for it by cooking for his family and friends. Phil treasured his four dogs, who loved him and will miss him dearly. He was most proud of his children and was devoted to supporting their accomplishments. Phil was happy anywhere, as long as he was with his wife and children, whom you would rarely find not together. His family meant more to him than anything else in the world, something he often mentioned, and it was evident.
Phil had the combination of a strong "tough" man, but he was a gentle soul. He held fast to his beliefs, protecting those he loved, yet he was always seeking a new friend to meet. He was the first to offer a helping hand, kind word or inappropriate joke to make those around him laugh. He was a "sneakerhead" and an aficionado of all things with a motor. He was a practical joker with a generous heart of gold. Phil was unapologetically himself and he encouraged everyone around him to care less about what people think and more about just being happy.
Phil is survived by his wife Cortney, son Philip and daughter Nicolina; mother, Jeanette; in-laws, Kenneth and Mary Gamel; brother and sister-in-law Joe (Adele) Commisso; sister and brother-in-law Lisa (Paul) Arena; sister Tiffany Castronovo; brother and sister-in-law Ryan (Jessica) Castronovo; sister-in-law Jacqeline Gamel; and sister-in-law Kristyn (Matt) Crumb. Phil has several nieces and nephews, Bob, Mike, Christine, Juliana, Alyssa, Camilla, Nolan, Tyler, Mckenna, Emily, Kade, and Kiaus. Since Phil was such a big kid at heart, his nieces and nephews adored him, as did the children of his close friends. He was the greatest "Funcle" — like a dad, only cooler. Phil also leaves behind more friends than we could ever mention; everyone who knew him will greatly cherish the memories, love, and humor.
He was preceded in death by his father, Philip Renaldo Castronovo; his beloved son, Kenneth Giordano Castronovo, a reunion he often thought about and although too soon, his family takes comfort in knowing they are together.
His family and friends are encouraged to celebrate Phil's life in a way he would want to be remembered, as a loving and caring man who cherished his circle deeply. Please join us in celebrating his life.
Visitation and memorial service will be held at Cavin-Cook Funeral Home on Sunday, July 31, 2022, from 2 to 4 p.m.
Arrangements at Adrean Funeral Service in Utica, NY, are tentatively scheduled for Saturday, August 6, 2022.
Cavin-Cook Funeral Home, Mooresville, is serving the family.