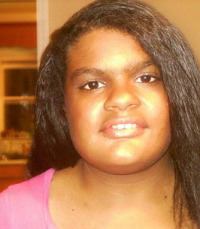 Quinesha Gwendolyn Prince, 28, of Old Farm Road, Statesville, N.C., was born in Iredell County, N.C., on July 13, 1994, to Quinton Machaux Prince Sr. and Monica Hickmon Prince. She departed this life on Tuesday, October 18, 2022, at her home.
Quinesha graduated from Statesville High School in 2012. At the time of her transition, Quinesha was a dedicated and faithful employee of Subway in Statesville for three years. Previously, she was employed by McDonald's in Statesville.
Quinesha accepted Jesus Christ at an early age. She joined Calvary Baptist Church in Union Grove, N.C. However, she loved attending Clark's Chapel Baptist Church with her grandparents, Gwen and Gene Lawrence. She participated in many activities there, including Children's Church, VBS, Girl Scouts, and she had an active role in one of the Christmas nativity programs that were held at the church.
Quinesha was a beautiful, vibrant, loving, and friendly young lady who was always willing to help in any way she could. She was a member of Girl Scout Troop #606, Clark's Chapel Baptist Church, Statesville, and Girl Scout Troop #96, Bible Way Church of Atlas Road, Columbia, S.C., where she graduated as an Ambassador Girl Scout. Until her death, Quinesha was very active at the PSR Clubhouse that she attended. There she learned healthy living and group interaction skills
Quinesha loved to cook. We always knew when she was getting ready to cook something because she would go Live on Facebook, cooking up her favorite meals or trying new recipes. If she didn't post the cooking session, she would post what she cooked.
Quinesha was a diehard Carolina Panthers fan and attended many of the Panthers football games. Her last text to a family member, Grandma Gwen, was regarding the last Panthers football game that she would see on Sunday, October 16, 2022: "Hey Grandma, what's going on with the Panthers this season?"
Quinesha was preceded in death by her maternal grandmother, Sharon Osborne; paternal grand-father, Keith Melton; paternal great-grandmother, Fairy Sue Prince, who was 102 years old at the time of her death; and great-aunt, Rachel Prince Anderson.
Those left to cherish her memory include her father, Quinton Machaux Prince Sr.; mother, Monica Hickmon Prince; brother, Quinten Machaux Prince Jr. of the home.; sister, Tantania Hickmon of Phoenix, Ariz.; paternal grandfather, Henry Calvin Prince of Spartanburg, S.C.; maternal grandmother, Gwendolyn Prince Lawrence of Statesville; maternal grandfather, Albert Eugene Lawrence; niece and nephews, Audrey Adams of Arizona, Zack Coley, and Tobias Coley; aunt, Leslie Osbourne of Arizona; uncles, Raymond Thompson of Spartanburg, S.C., Alvin (Silvana) Lawrence of Arizona, Kelley (Barbara) Lawrence of Statesville, Jason Hickmon of Charlotte, and Greg Hickmon of Greensboro; great aunt, Princie Lee Prince Campbell of Baltimore; great uncle, Greg Hammond of Lansing, Mich.: Sandra Love; cousin of South Carolina; Emmanuel Osborne, a special friend of Arizona; Shannon Murphy of Statesville; and a host of cousins, other relatives and friends.
We love her so much and we know that her presence shall be missed greatly by all who knew her. We give God praise for allowing this sweet angel to live among us for a little while. She has gone to an eternal place to dwell with Him forevermore.
Celebration of Life services will be held on Tuesday, October 25, 2022, at Clark's Chapel Baptist Church, Statesville, at 2 p.m. Visitation will be from 1 to 2 p.m. at the church. Burial will follow at the Oakwood Cemetery in Statesville.
Visit the Book of Memories for Ms. Prince at www.rutledgeandbigham.com.
Rutledge and Bigham Funeral Home is serving the Prince family.