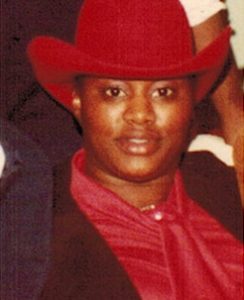 Miss Patricia Elfreda Frazier, 67, who was affectionately known as "Pat" or "Cookie," entered this world on March 17, 1955, in Charlotte, N.C., to the late Ada Belle Oakley Staton and Robert Lee Frazier Sr. She peacefully entered into eternal rest on October 18, 2022, surrounded by her family at Westwood Rehabilitation and Nursing Center in Archdale, N.C.
Patricia was a God-fearing woman and a true servant of God. She began her Christian journey at an early age, dedicating her life to Christ at First Baptist Church under the leadership of the late Reverend Crooms, where she served faithfully until she relocated to New Jersey in 1981. Once she relocated, she joined Shiloh Baptist Church under the leadership of the late Reverend Howe, later moving her membership to Lincoln Garden Baptist Church. While in these ministries, she served faithfully in many capacities. She was a Sunday School teacher, ran a tutoring program, had a bread ministry, and was an active participant in the choir. In June of 2019, Patricia moved back to North Carolina and joined New Hope Community Fellowship under the leadership of Pastor Lee Bynum. She served faithfully until her health began to decline. Not only was Patricia a woman of faith but she was an educated woman. She graduated from Statesville Senior High and furthered her education at Essex County College. Patricia was big of education; she was often teaching those she encountered the importance of an education.
Patricia was the epitome of a true servant. She made it her business to make sure the needs of the people were met. There are many that can share testimonials of her unwavering servanthood. She touched many lives and left her mark on the hearts of many. Patricia did not have any biological children, but there are many who called her "Ma Pat." One of the many things that she treasured was making sure her nieces and nephews were taken care of. Patricia was the epitome of love.
She was preceded in death by her parents; her two sisters, Bertha A. Torrence, and Brenda L. Mack; her brother, Robert Lee Frazier Jr.; a niece, Carla M. Wilson; and her two nephews, Frank W. Torrence, and Nolan T. Jones.
She leaves to cherish the memory of her life; five sisters, Barbara P. Carpenter of Troutman, N.C., Beverly F. Wilson of Trinity, N.C., Bernetta A. Caymitte of Miami Beach, Fla., Lafretta Knox of Statesville, N.C., and Marisha Rembert (MacArthur) of Nashville, Tenn.; two brothers, Wallace C. Staton and Marion L. Staton of Statesville, N.C.; and a host of other relatives and friends, including her godparents, Mr. John Alston and Elaine Alston of Somerset, N.J.
Celebration of Life Services will be held on Monday, October 24, 2022, at The First Baptist Church, Statesville, N.C., at 2 pm. Visitation will be from 1:30 to 2 p.m. at the church. Reverend Michael McClain will be officiating, and Reverend G. K. Moss will deliver the eulogy. Burial will follow in the Belmont Cemetery.
Visit the Book of Memories for Ms. Frazier at www.rutledgeandbigham.com.
Rutledge & Bigham Funeral Home is serving the Frazier family.