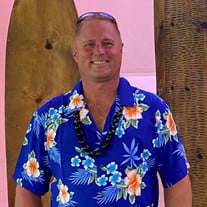 Randall "Randy" Shawn Smith, 55, of Mooresville, N.C., and formerly of DeLand, Fla., passed away suddenly Sunday, February 20, 2022, at home. He was born November 10, 1965, in Omaha, Neb., son of the late Robert Smith and Lorene Smith.
In his early years, Randy served as an active member of the U.S. Navy, followed by a dedicated member of the U.S. Naval Reserves. He was proud of the time he served and had a great love for his country.
Outgoing by nature, Randy never met a stranger. He relished time spent with his wife and children, always looking forward to the next adventure to experience the world or just in his home with his five beloved dachshunds. He was an immensely hard worker and strived to provide his family with the best life, while raising his children to be independent and strong.
A vast appreciation for craftmanship, Randy's favorite place to be was at his home. He enjoyed working with his hands, always using his creative mind to plan out the next project. He put his heart into the things that he created whether it was turning his home into a resort or helping a neighbor with a project in their own home.
Most important to him was his family, and he will forever be remembered as a loving and devoted husband, father, and friend.
He leaves a lasting legacy to be cherished by his survivors, his wife of 22 years, Jessica Smith; sons, Ethan Smith and Jeffrey Soehnlein; daughters, Camryn Soehnlein and wife Samantha, Cassidy Soehnlein, Auden Smith, Heydon Smith, and Alexa Smith. In addition to his parents, Randall is also survived by his sister, Deborah McManus and husband Jim. He was preceded in death by his brother, Robert Smith II.
The family would like to extend their sincere appreciation to all the family and friends for their unwavering compassionate and supportive care that was provided. Your kindness will never be forgotten.
Cavin-Cook Funeral Home & Crematory, Mooresville, is serving the family. Condolences may be made to the family at www.cavin-cook.com.