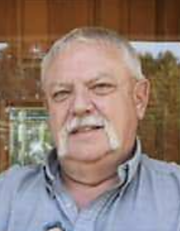 Robert Boggan Dula III, 67, of Siloam, N.C., passed away Monday, April 18, 2022.
Mr. Dula was born in Mecklenburg County, September 14, 1954, the son of the late Robert B. and Edna Henley Dula. Robert was married to Tina Little Dula, who survives. He was retired as a quality control specialist in the machine industry.
In addition to his wife, Mr. Dula is also survived by his sons, Christopher Dula (Kaitlyn) and Hunter Dula; his grandson, Tucker Dula; his brother, Steve Dula (Brenda); and his sister, Janetta Dula.
A memorial service will be conducted at 4 p.m. on Thursday, April 21, 2022, in the Chapel of Troutman Funeral Home, the Reverend John Stevens officiating.
In lieu of flowers, memorials can be made to Troutman Baptist Church.
Troutman Funeral Home is serving the family.