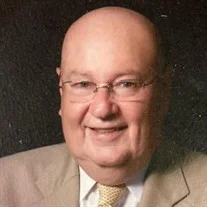 Robert Lee "Bob" Spencer, 84, passed peacefully into the loving arms of God on July 5, 2022, at Wake Forest Baptist University Medical Center. He was born on September 11, 1937 to Frank and Cathryn Spencer in York, Pa., and he was raised in Baltimore, Md., after his family moved from York.
He was predeceased by his parents; his older sister, Betty Axt; and his fraternal twin brother, Jack M. Spencer.
He is survived by his loving wife, Toleda "Rada" Proehl Spencer and her large, loving, extended family in Virginia and Maryland, including loving daughters, Colleen Spencer Buck (Eric) and Kristin Spencer Sinkins (Todd), both of Alexandria, Va.; grandsons Ryan Buck and Jay Stonefield; granddaughter Sheridan Stonefield; step-grandson Connor Sinkins; step-granddaughter Grace Sinkins; and his first wife and the mother of their daughters, Patricia Spencer Smith (Norman), all of Alexandria, Va.; nephew, Bruce Axt (Trish) of Westminster, Md.; niece, Kim Gluskins (David) of Clinton Township, Mich., and their children, Brittany and Jordan; cousins, Rick Weaver (Anne) of Silver Spring, Md., and their son, Benjamin; Frank Tillen and Michelle Tillen of Fairfield, Calif.; and additional extended family during his marriage to Patricia Smith.
Military Service
He served in the United States Air Force in Berlin, Germany, during the Cold War from 1956 to 1960, monitoring enemy aircraft as a Russian language interpreter following graduation from the Russian Language School at Syracuse University. He was honorably discharged from active Air Force Reserve service in 1962. He served from 1981 to 1987 in the United States Navy (Air Force) Reserves, and he was named "Sailor of the Month" during this time.
Education
His educational career included graduation from Catonsville High School in Catonsville, Md., in 1955; State Teachers College, currently Towson State University in 1963; Juris Doctor degree with honors from the University of Maryland at Baltimore School of Law in Baltimore, Md., in 1991; Masters of Arts and Graduate Program in Liberal Studies, Post-Baccalaureate Certificate in Global Studies from the University of North Carolina at Greensboro in 2010; Master of Science in Criminal Justice/Public Administration with distinction from Liberty University, Lynchburg, Va., in 2016; inducted into Alpha Phi Sigma, National Criminal Justice Honor Society, Theta Sigma Chapter at Liberty University in 2016; Masters of Laws, International Legal Studies with distinction from Liberty University in 2018.
Professional Career
He taught high school Biology for three years in Maryland. He worked for the Food and Drug Administration in the Department of Health and Human Services in Rockville, Md., and Washington, D.C., retiring in 1992 after thirty years of outstanding Federal service. He worked as a food and drug attorney for Hogan and Hartson in Washington, D.C., from 1992 until he retired a second time in 2006. He was a former member of the Bar in the United States District Court of Maryland, Court of Appeals of Maryland, District of Columbia Court of Appeals, and United States Court of Appeals for the Fourth Circuit.
Church and Community Service
He was a member of National Presbyterian Church in Washington, D.C., before he and his wife Rada retired to Statesville in 2007. They are currently active members of Forest Park Presbyterian Church. Previously, he served at St. John's Episcopal Church, Broad Creek in Fort Washington, Md., as a member of the Vestry and as a Senior Warden, and he was ordained as an elder in the Presbyterian church. He was previously active in a small, neighborhood group Bible study.
His community service was wide-ranging: served as a coach on his daughters' soccer team, the Cannonballs, and as a judge and timer, etc. on his daughters' Tantallon swim team, Fort Washington, Md.; performed pro bono legal work for the indigent; elected to his Washington, D.C., ward's Advisory Neighborhood Commission; taught government in the English-as-a-Second-Language Program at Mitchell Community College, Statesville; served as a Guardian-Ad-Litem in Iredell County's Department of Social Services; picked up food from grocery stores for food bank at Iredell Christian Ministries; served as President of the Homeowners Association (HOA) and member of the HOA Covenants Rewrite Committee.
Personal Attributes
Although Bob excelled and accomplished numerous goals, he was a humble, kind man who loved the Lord. He was a loyal, avid fan of the original Baltimore Colts and the Baltimore Ravens. He loved documentaries, especially those on the military, and Antiques Roadshow; watching football, basketball, and other sports; lifelong learning, reading, and travelling domestically and internationally with his wife Rada. Because of COVID-19 pandemic restrictions, they were unable to complete travel together to a remaining seventh continent. He began running marathons when he was forty; completed the 1983 Marine Corps Marathon in Washington, D.C., with a time of 3:35:23. He was loved and respected by many people. He will be lovingly remembered and greatly missed!
Service and Burial Details
A memorial service will be held at Forest Park Presbyterian Church, 1026 Davie Avenue, Statesville, NC on Saturday, July 30, 2022, at 11 a.m. with the Reverend Scott Jeffreys officiating. The family will receive friends at the church from 10 to 10:45 a.m. prior to the service. A graveside service and burial will be held later at Fort Hill Memorial Park in Lynchburg, Va.
The family appreciates the professional, loving care provided by the nursing staff, particularly from Emily and Ashley, and physicians in the Neurological Services, Intensive Care Unit, at Wake Forest Baptist University Medical Center. In lieu of flowers, memorials may be made to Forest Park Presbyterian Church, 1026 Davie Avenue, Statesville, NC 28677.
Nicholson Funeral Home is assisting the family.