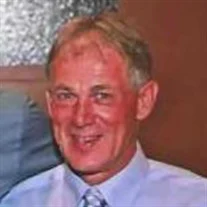 Robert "Robbie" Sharpe Brown Jr., 65, of Statesville, N.C., passed away at his home on Saturday, May 7, 2022. Born on May 18, 1956, in Iredell County, he was the son of Marjorie Wilcox Tyson and the late Robert Sharpe Brown, Sr.
Robbie loved going on trips with his family, especially going camping. He had a passion and a desire to make people smile.
In addition to his father, Robert Sharpe Brown Sr., he was preceded in death by his son, Shannon Scott Brown.
Those left to cherish his memory include his children, Brandon Brown of Statesville, Jay Brown and his wife Aspen of Hickory, and Amanda Brown of Charleston, S.C.; his mother, Marjorie Wilcox Tyson; his grandchildren, Kobi Brown, Kasey Brown, Bryson Brown, Annabelle Warren, Kayla Brown, Scout Brown, and Huckleberry Brown; great-grandchildren, Asher and Kai; sisters, Gerry "Sissy" Sullivan and her husband Rance, and Sherry Augusto and her husband Billy; and brother, Charles "Charlie" Brown.
The family will receive friends from 11 a.m. to 12 noon on Wednesday, May 11, 2022, at Nicholson Funeral Home. Funeral Services will be held at 12 noon in the Chapel of Nicholson Funeral Home with Pastor James Lewis officiating. Burial will follow at Iredell Memorial Gardens.
Online condolences may be made to the family at www.nicholsonfunerals.com.
Nicholson Funeral Home has the honor of serving the family.