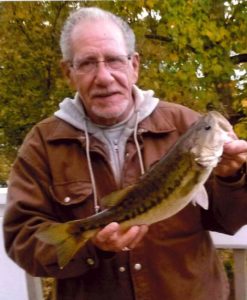 Thomas "Tom" Louis Oddo, 77, of Statesville, N.C., passed away unexpectedly on Sunday, May 8, 2022, at his home. Tom was born in Manhattan, N.Y., on February 4, 1945, to the late Ignatious Oddo and Elizabeth Anzalone.
After graduating from high school, Tom joined the United States Army, served as a Hercules Missile Crewman, received the National Service Defense Medal (during the Vietnam War Era), the Sharpshooter Rifle Badge, and was honorably discharged in September 1971. After leaving the United States Army, Tom worked for the New York State Department of Transportation as a Construction Equipment Mechanic.
Tom's past-time favorites consisted of dancing shag on Friday nights, fishing for largemouth bass, wrenching on cars with his brother-in-law Jimmy Trueman, and spending quality time with close friends and family. He had a unique and playful sense of humor that was endearing to everyone he encountered. His steadfast love for his late wife Doris Jean, whom he married on September 19, 1965, was undeniable. He was a kind, tender, and generous man with a heart of gold!
Along with his wife, Tom was predeceased by his parents, Ignatious Oddo, Elizabeth Anzalone, and sister Rosalie Rabito.
He is survived by one daughter, Theresa Jean Leicht (Rich) of Long Island, N.Y.; and three sons, Scott Oddo (Donna) of Huntersville, N.C.; Bobby Oddo (Kennedy) of Troutman, N.C.; Billy Oddo (Laurie) of Sherrills Ford, N.C., and nine grandchildren, Kristin Pinka, Tommy Oddo, Deirdre Leicht, Carissa Leicht, Cory Oddo, Cadence Oddo, Mason Oddo, Gina Piekarski, and Danielle Oddo, and five great-grandchildren. He is also survived by two brothers, Anthony Oddo and Frank Oddo; brother-in-law (best friend) Jimmy Trueman (Mary); and lifelong friends, John and Marla Gaylardo, and a host of nieces and nephews, and close friends.
A Memorial Service will be held at 4 p.m. on Friday, May 13, 2022, in the Troutman Funeral Home Chapel with full military honors. The family will visit with friends from 2 to 4 p.m. prior to the service. A Celebration of Life with a buffet dinner will be held at Victory Lanes – Mooresville, Taproom and Eatery, 125 Morelake Drive, Mooresville, NC 28117 from 5:30 to 7:30 p.m.
Online condolences may be made to the family at www.troutmanfuneralhome.com.
Troutman Funeral Home is serving the family.