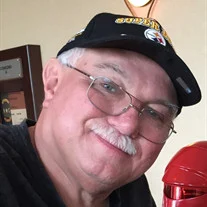 Ronald Joseph Ulishney, 71, of Mooresville, N.C., passed away on Thursday, October 27, 2022, at Lake Norman Regional Medical Center. He was born July 20, 1951, in Latrobe, Pa., to the late Frank Ulishney and Martha Friskey Ulishney.
In addition to his parents, he was preceded in death by a brother, Francis Ulishney.
He was a member of St. Therese Catholic Church, Mooresville. Ronald enjoyed airplanes and was a supporter of the Dayton Air Force Museum. He loved watching the Pittsburgh Steelers, coupon shopping, Legos, coin collecting, and being outdoors. He was very fun-loving and loved to laugh. He touched many lives with his humor and inspired people to be their best. He loved being with his family most of all.
Ronald is survived by his loving wife, Mary Pastor Ulishney; daughter, Kerrie Ulishney Castle and husband Daniel; sisters, Patricia Strosko of Hunker, Pa., and Debbie Jellison of Greensburg, Pa.; brother-in-law and sister-in-law, Mike and Janet Knott of Derry, Pa.; brothers-in-law, Gerald Pastor of Latrobe, Pa., and Paul Pastor of Canyon Lake, Texas; nieces, Lindsay Jellison, Dawn Marie Strosko, Amanda Jellison, Jennifer Koch and Sharon Ulishney; nephews, Danny Strosko and Michael Paul Knott; great-nieces, Maggi Strokso, Lily and Bella Lash, Anika Knott, and great-nephew, Kris Koch.
A service Celebrating the Life of Ronald will be held on Saturday, November 5, at 11 a.m. in the Cavin-Cook Funeral Home Chapel with Father Mark Lawlor officiating.
Cavin-Cook Funeral Home and Crematory, Mooresville, is serving the Ulishney family. Condolences may be sent to the family at www.cavin-cook.com.