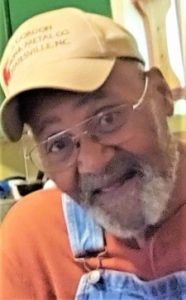 Mr. Roy Wynn Jr., 79, son of the late Roy Wynn Sr. and Rachel Holly Wynn was born January 7, 1943, in Bertie County, N.C. He departed this life Thursday, March 17, 2022, at Rosewood Nursing Home in Harmony, N.C.
He was preceded in death by a brother, George Wynn; three sisters, Dezzie Wynn Riddick, Viola Wynn Lewis and Mary Teresa Thigpen Feimster; a sister-in-law, Bettie Sue Wynn; three nephews, David Ross Wynn, Danny Ray Riddick, and Glen Wynn; and a niece, Teia Thigpen Lester.
Mr. Wynn leaves to cherish his memories, a son, Alex Beamon of Statesville; two boys, he helped raise as his own, Barry and Gary Stevenson, both of Statesville; three brothers, James Wynn of Plymouth, N.C., Randy Wynn of Statesville, and Edward Wynn of Philadelphia, Pa.; a sister-in-law, Barbara Wynn of New Jersey; one brother-in-law, Jimmie Riddick of Statesville; a special nephew/caretaker, Jimmie "Smokey" (Shelia) Riddick; two special friends, Shelby Misher and Beauford Bellamy, both of Statesville; and a host of other nieces, nephews, cousins and friends.
Rutledge & Bigham Funeral Home is serving the family.