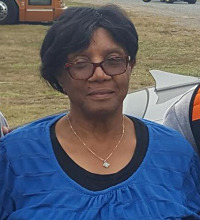 On June 29, 1940, Sadie Belle Minor Smith, affectionately known as Sate to her friends and family, was born to the late Bishop Clarence Minor and Mother Rachel Jones Minor in Statesville, N.C. She grew up in a loving, Christian home. She was the second eldest of seven children.
After graduating from Morningside High School in 1958, Sadie became a licensed cosmetologist. She always had a love for fixing hair. On August 8,1964, Sadie became the proud parent of her only child, Stephen Anthony Minor. Sadie often said, "I got just what I wanted. I wanted a boy, and I did not want any more children." Sadie was a devoted and loving mother. Anthony says, "My mother is the best mother anyone could have asked for." Sadie went on to take college courses while working full time to make a better life for her and her son. She enjoyed fishing, gardening and yard work. She loved cooking and baking cakes. Her brothers , Don and Randy, would often ask her to cook them food or bake cakes or pies for them. Sadie loved basketball and was a hard worker. She retired from the VA Hospital in Salisbury, N.C.
If you knew her, you loved her. She told it like it was, loved visiting the sick and she loved a Holy Ghost filled church service. Even from a young age, Sadie attended church with her family at Mount Calvary Holiness Church under the leadership of her father, Bishop Clarence Minor. Sadie loved to sing and sung with The Voices of Calvary.
Sadie relocated to Bowie, Md., in 2013. She began working at Howard University until her second retirement in 2019. She loved talking and encouraging the students. In 2014 Sadie joined Greater Mount Calvary Holy Church, Washington, D.C., with Bishop Alfred Owens and Susie C. Owens, Pastors. She attended Calvary Bible Institute and loved serving with the Seniors of the church. Sadie fought a good fight of faith. She finished the work that God called her to do. The impact that she has made in her family and so many other lives will continue to bear much fruit.
In addition to her parents, Sadie was preceded in death by her siblings, Clarence Joel Minor and Donald Eugene Minor.
Sadie leaves to cherish her memories her only child, Anthony Minor; four grandchildren, Amber Minor, Amie Roseboro, James Minor and Jay Minor; and one grandchild, Zhymir Taylor; three sisters, Willie Brown, Carol Stevens and Francis Trotter; one brother, Dr. C. Randy Minor; and a host of nieces, nephews, family and close friends.
Rutledge & Bigham Funeral Home is serving the family.