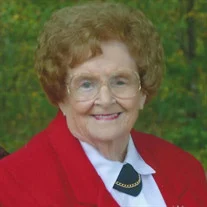 Sally Jean Deal, 94, of Sharon School Road, Statesville, N.C., was called home to be with her Lord and Savior on Monday, August 15, 2022.
She was born in Iredell County on May 25, 1928, to the late Joshua Butler Witherspoon and Sally Etta Sigmon Witherspoon.
Jean attended Celeste Henkel School, and later found her calling, building lifetime friendships as a supervisor seamstress, working 40-plus years for Beauty Maid Mills. On February 24, 1954, Jean married the love of her life, LA Deal. When LA passed away in 2012, they were married for 67 wonderful years, and their love constantly demonstrated the meaning of "true love." The couple could be found most evenings on their back porch swing, holding hands, and ready for a visit from their family and friends. Jean could be found making friends at any opportunity and loved to visit friends, family, and community members. She had an open-door policy and always had a place for everyone at her kitchen table.
Jean was a lifelong member of Sharon Evangelical Lutheran Church, where she was proud to be the oldest member. She could be found at the back of the church every Sunday, hugging members and talking until the church music started playing. Jean loved spending time with family and friends shopping, taking long trips through the countryside, and making her family laugh. She was an unconditional loving mother, grandmother, and great grandmother. She loved her son, Ronnie, deeply.
Jean also loved spending time with her dog, Tiny, who could be found in her lap or riding in her car. Jean's love for her family is too great to describe in words or to explain how much her family loved her. Her wonderful smile, and the sound of her laughter and her presence will live in our hearts forever.
In addition to her parents and her husband, she was preceded in death by a son, Luther Ronnie Deal; a great grandson, Samuel Luke Godfrey; one brother, JB Witherspoon; and five sisters, Francis Crouch, Summia Pope, Margaret James, Evelyn Dunnigan, and Dollie Deal.
She is survived by her grandchildren, Tammy Deal Godfrey and husband Josh, Jamie Witherspoon, and Jodi Witherspoon; and two great grandchildren, Will Godfrey (Bailey Saunders) and Liz Godfrey. Also surviving are her daughter-in-law, Brenda Troutman; and sisters-in-law Jan Witherspoon, Peggy Deal, and Therry Nash; and many nephews and nieces.
Funeral services will be conducted at 3 p.m. on August 17, 2022, at Sharon Evangelical Lutheran Church. Pastor Marcus Hovis will officiate. Burial will follow at Iredell Memorial Park. The family will receive friends from 6 to 8 p.m. on Tuesday, August 16, 2022, at Sharon Evangelical Lutheran Church. Pallbearers include Ernie Pope, Clarence Edwin Deal Jr., Shannon Deal, Bob Kastor, Brad Kastor, James Mackie, Allen Miller, Randy Moose, Brandon Moose, and Trevor Virtue.
Online condolences may be left at www.nicholsonfunerals.com.
Nicholson Funeral Home is serving the family.