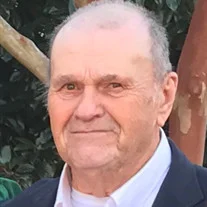 Sam Allen Upright Sr., 84, of Cleveland, N.C., passed away on Monday, December 5, 2022, at Gordon Hospice House in Statesville, N.C.
He was born on April 4, 1938, to late James Alexander and Sarah Lucille Sipes Upright. He was predeceased by his wife, Eliza "Ann" Prichard Upright, whom he married on April 21, 1959. In addition to his parents and wife, he was also predeceased by a daughter, Sandra U. Mooe, and his sister, Mary Helen Holton, and two brothers, Charlie and Carl Upright.
Sam lived in the Amity Hill Community in eastern Iredell County his entire life. He was of the Christian faith and attended Troutman Schools. Sam ran the family dairy/beef farm until his health wouldn't allow him to any longer. Even after he retired from farming, he enjoyed going on tractor rides and attending plow days and talking about the "good ole days."
Sam is survived by three sons, Allen Upright (Melody), Teddy Upright and David Upright; and two daughters, Kathy Martin (William) and Joyce Ketchie (Mike). In addition, he is survived by his grandchildren, Leigh Ann Kyles, Dawn Linebarrier, Adam Upright, Garrett Upright, Rusty Upright, Casey Upright, Ricky Ketchie, Ben Ketchie, Chris Martin and Joni Martin; and 12 great grandchildren.
A graveside service will be held at Bethesda Presbyterian Church, 802 Bethesda Road, Statesville, NC 28677 on Sunday, December 11, 2022, at 3 p.m. Visitation to follow in the fellowship hall.
Memorials may be made to Gordon Hospice House, 2341 Simonton Road, Statesville, NC 28625.
Cavin-Cook Funeral Home & Crematory, Mooresville, is serving the Upright family. Condolences may be made to the family at www.cavin-cook.com.