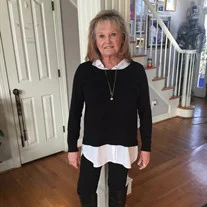 Sandra "SanDee" Lee Bourke, 76, of Mooresville, N.C., passed away on November 22, 2022. She was born on November 7, 1946, in Charlotte, N.C., to the late William and Myrtle Holden Thornburg.
SanDee was a talented interior decorator and also enjoyed her career in real estate. She enjoyed creating flower arrangements and wreaths, and she was a great cook. SanDee was a force in her family, and they all loved her immensely. Her favorite hobby was spending time with her family, especially her grandchildren. She was a kind and loving mother, grandmother and great-grandmother, and she will be greatly missed by her family and friends.
In addition to her parents, SanDee was preceded in death by her brother, Rick Thornburg.
She is survived by her children, Bill Bourke Jr. (Monica) and Christy Bourke Ross (Jeff); grandchildren, Madison Cory and Christian Bourke (Ashley); great-grandchildren, Lacy, Braxton and Myla Beau Cory; sisters, Gena Hawley (Steve) and Debbie Stavrakas (Buddy); nieces and nephews, Rick Thornburg (Donette), Shane Thornburg, Bill Stavrakas (Victoria), Chris Stavrakas, and LeeAnne Stavrakas; great nephews and niece, Holden Thornburg, and Jack and Emma Stavrakas; and sister-in-law, Susie Thornburg.
A memorial service will be held on Wednesday, November 30, 2022 at 1 p.m. at Cavin-Cook Funeral Home & Crematory, Mooresville, N.C., with Eddie Karriker officiating.
In lieu of flowers, memorial contributions can be made to Mooresville Christian Mission, 266 N. Broad Street, Mooresville, NC 28115.
Cavin-Cook Funeral Home & Crematory, Mooresville, is serving the Bourke family. Condolences may be made to the family at www.cavin-cook.com.