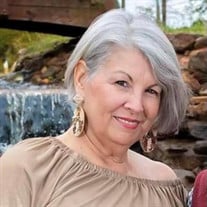 Susan Dawn Trotter Albachten was born on February 16, 1959, in Norfolk, Va., to Kent L. Trotter and Alice Faye Shipp. Susan would like to be remembered as generous, giving to others, and leading from the heart. Her family would describe her as vivacious, funny, life of the party, dancing queen, shopaholic, best Susu, and Auntie E-V-E-R. To know her was to L-O-V-E her. She made many friends easily and enjoyed hosting many family gatherings. "Any excuse is an excuse to have a party" as she would say.
She peacefully passed away on November 24, 2022, from a chronic heart condition. She was a special needs teacher for many years in Bamberg, S.C., and in her retirement enjoyed working at Amy's Boutique in Elizabethtown, N.C., where she met many wonderful people. She was a long time Seventh Day Adventist and attended Elizabethtown SDA and recently transferred to Denton SDA church in Lexington, N.C.
She is survived by her loving husband Keith Albachten of Lexington, N.C.; daughter, Shannon Viera (Christian) of Statesville, N.C.; son, William Hair (Donna) of Holly Hill, S.C., Brad Albachten (Elle) of Jacksonville, Fla., and Jessica Albachten, of Ft. Wayne, Ind. She was a loving "Susu" to Max and Aidan Viera of Statesville, N.C., Luke Albachten of Jacksonville, Fla., and Christian, Annabella, Nalia, and Crimson Albachten, all of Ft. Wayne, Ind. Susan is survived by her mother and siblings, Alice Faye Shipp of Gulf Hammock, Fla., Darlene Rogers (Mike) of Collegedale, Tenn., Jenifer Lynn Trotter Crosby (Bill) of Bamberg, S.C., Heather Lee Trotter Kneece (John) of Orangeburg, S.C., John Tuck (Meredith) of Bamberg, S.C., Becky Rouse (Randy) of Middleburg, Fla., Donna DesCombes (Martin) of Plant City, Fla., Lorie Jones, (sister-in-law) of MacClenny, Fla., and Jody Jones (Tracey) of Jacksonville, Fla. She leaves behind many nieces, nephews, aunts, uncles, and cousins.
Susan enjoyed drawing, crochet, crafts, bible study, grandchildren, family get-togethers and shopping. She participated in her church activities, teaching, church clerk and audio services.
She was preceded in death by her father, Kent L. Trotter and Scott Jones, brother; paternal grandparents, JG Trotter and Evona Trotter; and maternal grandparents, John H. Shipp, and Margaret Odom.
The family will have services on Friday, December 2, at 3 p.m. at Nicholson Funeral Home located at 135 Front Street Statesville, N.C., followed by a dinner at the Statesville SDA church.
In lieu of flowers, the family requests donations be made to Denton, SDA Church building fund in memory of Susan Albachten. Denton SDA Church, P.O. Box 1830 Denton, NC 27239
RSVP to dinner: https://forms.gle/FN1kAwTsj8HVZ9xc7
Nicholson Funeral Home is honored to serve the Albachten family.