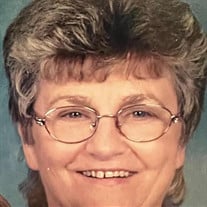 Sandy Overcash, better known as "The Bolt Lady," passed away at her residence on September 27, 2022.
Daughter of the late Willard and Margaret Overcash, she was a proud graduate of the Celeste Henkel Class of 1965. She proudly worked with her Dad at Overcash Machine Shop for 28 years. She worked for Elmer's and Piedmont Fasteners, but has worked for Interstate Bolt and Mid-State Bolt for the last 20-plus years, where she got her nickname "The Bolt Lady".
Thanks to all of her customers that she helped fix your weed eater, trailer, car, lawnmower or whatever it was, it always put a smile on her face when she told us how she helped you fix something. Thanks to all that have shared stories of her fixing or finding something that no one else could. Her other joy was baking cakes. If she knew you, she probably baked a cake for you at some time whether it was a birthday, wedding, anniversary or a death in your family.
In lieu of flowers, you can send donations to Hospice of Iredell County, or you can donate to cover funeral expenses at https://everloved.com/life-of/sandra-overcash/obituary/.
She was preceded in death by her brother-in-law, Clyde "Jr." Shaw, and an extra special aunt, Betty Sharpe.
She was a member of Bethlehem UMC.
She is survived by daughter, Jan Harris Jenkins; sister, Shelby Shaw; niece, Tracie Sharpe; four grandchildren, Cameron (Sean) Papazis, Luke, Lance and Lane Harris; and one great grandchild, Waylon Harris.
Thanks to her special caregiver at Shuler Healthcare, Deborah Adams, and her special nurse at Hospice, Lori Patterson, and niece April Brown.
Visitation will be from 6 to 8 p.m. at Nicholson Funeral Home on Wednesday September 28, 2022. Graveside service will be held at Iredell Memorial Gardens at 4:30 p.m. on Thursday, September 29, 2022, with Tim Mills officiating.
Pallbearers will be Tim Campbell, Timmy Barnes, David Lewis, Todd Felts, Ray Lippard, and Curtis Johnson.
"If you are immediate family and are not mentioned in this obituary, receive your friends wherever you have been the last three years, when she needed you most, and remember all the times it was 'hard' for her, but she showed up and did for you."
Nicholson Funeral Home is in charge of arrangements.