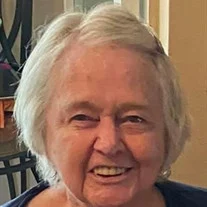 Virginia Maxine Smith Scaglione, 82, of Mooresville, N.C., passed away on Sunday, September 25, 2022. She was born on July 28, 1940, in Mooresville to the late Burton and Ruby Cockman Smith.
She enjoyed going to church and shopping. Virginia was the caregiver for her family and many foster children who stayed with her. She was "Mom" to everyone; she never met a stranger. She loved her family and her fur babies, Red and Domino, for they meant everything to her. She will be greatly missed by everyone who knew her.
In addition to her parents, she was preceded by her loving husband of 59 years, Ernest Mauro Scaglione; son, Paul Scaglione; grandson, Clifford Sandy; and eight siblings.
She is survived by her children, Michael Scaglione (Christine), Jimmy Scaglione (Lula), Lisa Mote (Donnie), Joseph Scaglione, and Andy Scaglione (Kim); sister, Hazel Bowers (Mike); grandchildren, Carly Blevins (Clint), Anthony Scaglione, Ernest Scaglione, Kayla Mote, Myca Scaglione, Eddie Mote, and Marissa Scaglione; and great-grandchildren, Elijah Graham and Mason Blevins.
A Memorial Service will be held at 12:30 p.m. on Saturday, October 1, 2022, at the Heritage House of Cavin-Cook Funeral Home with Rev. John Miles officiating. The family will receive friends prior to the service from 12 to 12:30 p.m.
Cavin-Cook Funeral Home, Mooresville, is serving the family. Condolences may be made to the family at www.cavin-cook.com.