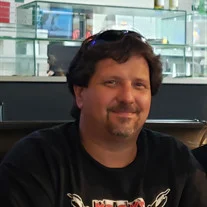 Scott Robert Goyer, 52, of Mooresville, N.C., passed away on Thursday, May 12, 2022. He was born on January 9, 1970, in Troy, N.Y., to the late Carl and Claudette Falkner Goyer.
Scott has been a part of NASCAR for 30 years and a shop foreman for 32 years. He spent his entire career with Spraker Racing Enterprise Inc. in Mooresville. He enjoyed building Hot Rods and components; his life was his work.
In addition to his parents, he was preceded in death by his maternal grandparents, Paul and Edna Falkner; and paternal grandparents, Emmott and Loretta Goyer.
He is survived by his sister, Bonnie L. Keyer (Doug); nephew, Dylan Keyer (Nicole); nieces, Brittany and Brianna Keyer; aunts and uncles, Judith Jeune (James), and Paul Falkner (Jeanette); cousins, Thomas Jeune (Melissa), and Michael Jeune (Jessica); and beloved "brother", friend, mentor, and co-conspirator, Jeffrey Spraker and his wife Susan, and their daughter, Rachel and dog, Bo.
A Memorial service will be held at 2 p.m. on Wednesday, May 25, at Heritage House of Cavin-Cook Funeral Home. In lieu of flowers, memorials may be made to St. Jude Children's Hospital, 501 St. Jude Place, Memphis, TN 38105.
Cavin-Cook Funeral Home & Crematory, Mooresville, is serving Scott's family. Condolences may be made to the family at www.cavin-cook.com.