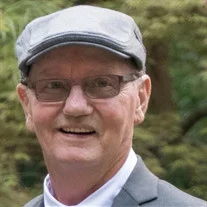 Joseph David Reff, age 68, of Cleveland, N.C., passed away on Thursday, May 12, 2022, at his home surrounded by his family. Born on April 9, 1954, he was raised in Depauville (Watertown), N.Y. He was the son of the late Paul Reff and Margaret Tabolt Reff.
Mr. Reff was a Veteran of the United States Air Force, having served from 1976 to 1982. He was stationed at Elmendorf Air Force Base in Alaska and then in Myrtle Beach, S.C. While serving, he received the Air Force Good Conduct Medal (May 3, 1976 – April 18, 1982) the Air Force Longevity Service Award Ribbon, and the Air Force Outstanding Unit Award. He retired from the VA Medical Center in Salisbury.
In addition to his parents, Paul Reff and Margaret Tabolt Reff, he was preceded in death by his sister, Suzanne Ludlow; brother, Richard Reff; brothers-in-law, Johnny Hansson, Hank Chisamore, and Dale Phelps; and his sister-in-law, Carol Reff.
Those left to cherish his memory include his wife of over 45 years, Rebecca "Becky" Rieves Reff; children, Eric Reff and his wife Racheal, Zach Reff and his wife Lauren, and Alicia Bennett and her husband David; his grandchildren, Brantley, Abby, Seth, and Lily; siblings, Gary Reff, Tom Reff and his wife Mary, Dianne Hansson, Rose Ludlow and her husband Ernie, Shirley Chisamore, Ron Reff and his wife Mary, Gail Countryman and her husband Ed, Mike Reff, Lynn Phelps, Pat Reff, Janey Spry and her husband Mike, Phil Reff, and Paula Hamlin; and several nieces and nephews.
At the request of Mr. Reff and his family, no services will be held at this time.
For those who wish, memorial contributions may be made in his memory to the American Cancer Society at www.donate3.cancer.org or by calling 1-800-227-2345.
Nicholson Funeral Home has the honor of serving the family of Mr. Reff.