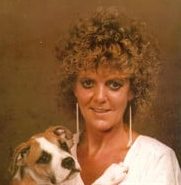 Sherrie Ann Alley Riley, 76, of Mooresville, N.C., died December 19, 2021 at the Monroe Rehabilitation Center in Monroe, N.C. Born in Mecklenburg County on October 3, 1945, she was a daughter of the late Harley Alley and Ollie Riley.
Sherrie was a hair stylist and enjoyed NASCAR and Tarheel football and basketball.
She was preceded in death by a brother, Ted Alley, and a sister, Linda Erwin.
Survivors include her son, Tony Ritchie of Mooresville; a special niece, Angie Yates (Tom); and her former husband, James "Toodles" Ritchie.
Graveside services will be held at 3:30 p.m. on Friday, January 14, 2021, at Glenwood Cemetery in Mooresville with Pastor James Lewis officiating.
Condolences may be sent online to the family to www.nicholsonfunerals.com.
Memorials may be given to the Alzheimer's Association Western Carolina Chapter, 4600 Park Road, Suite 250, Charlotte, N.C. 28209, or to the Lake Norman Humane Society, 110 Robinson Road, Mooresville, NC 28117.
Nicholson Funeral Home is entrusted with the arrangements.