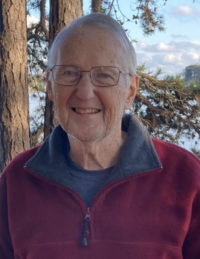 Sherrill Vincent Parks was born May 1, 1937. He graduated from Statesville Senior High School and Davidson College. He went into the family business, Parks Realty Company, where he met and fell in love with Virginia Davidson. They were married March 10, 1963, and were blessed with 52 years together.
Sherrill served in the National Guard for six years: HHC 1st Bde 30th Infantry Division. His rank was Sgt. 3-5, and he was honorably discharged. Sherrill was very active in his community. He was a charter member of the Statesville YMCA. He was a charter member, director, secretary and treasurer of the Kiwanis Club. He was President of the Board and Realtors, served on the Statesville Planning Board for 23 years and co-chaired the Statesville Downtown Revitalization Committee. He operated radio communications in the military, at hot air balloon rallies and also for Iredell County Civil Defense RACES (Radio Amateur Civil Emergency Service) Auxillary Communications. Sherrill was a charter member of Forest Park Presbyterian Church. He has been an active member of Westwood Baptist Church for 22 years, where he loved being the greeter. His warm genuine welcome is the reason many came back. He loved his church family and enjoyed the music each Sunday, especially the old gospel hymns he could tap his hand to the beat.
Sherrill led an active and interesting life. He had his pilot license and used to take newspaper photographers up to take aerial photos and the sheriff up to look for liquor stills and marijuana fields. He enjoyed throwing apples and corn to deer in his yard. He loved to take pictures and used to develop them in his own darkroom. He used to jog, ride bikes, swim, play tennis and basketball, water ski, and exercise at the YMCA. He rode a hot air balloon for his 50th birthday. He especially enjoyed the beach and lake. During his final days, he rallied and was able to do his favorite thing: ride his boat with family.
Family was the most important thing to Sherrill. He cherished his two daughters, Kim and Debbie, and adored and was so proud of his three grandchildren, Kalib, Amanda and Bailey. He got so excited every time he got to spend time with them.
Sherrill died at his home by the lake Saturday, June 4, 2022, while listening to gospel music with his family by his side. He was 85 years old. He was preceded in death by his wife Virginia Davidson Parks; by his parents, Laurie Alexander Parks Sr and Rose Sherrill Parks; and by his sister, Shirley Parks Leonard.
He is survived by his daughters, Kim Parks Michaels and Debbie Parks Lankford; by his grandchildren, Kalib Michaels, Amanda Lankford, and Bailey Lankford; and by his brother, LA Parks Jr.
Sherrill was a wonderful man, Dad, Papa, husband and friend who impacted many lives. He liked to cut up to make others smile. He was so friendly that all who met him came to love him, including his caregivers from Visiting Angels. As his granddaughter Amanda described him, "You loved big and you were loved even bigger by everyone!"
Visitation will be Wednesday, June 8, from 6 to 8 p.m. at Troutman Funeral Home. Funeral Services will be officiated by Pastor Mike Hyde at Westwood Baptist Church in Statesville on Thursday, June 9, at 2 p.m. with burial following at Oakwood Cemetery.
Troutman Funeral Home is serving the family.