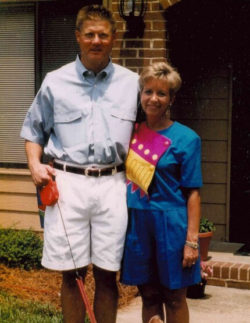 Sherry Fox Moore, 67, of Statesville, N.C. passed away unexpectedly at her home on Wednesday, July 27, 2022.
Sherry is survived by her husband, Bobby Moore, of the home; sister, Judy Morgan (Randy); twin brother, Terry Fox (Sherri); and sister, Tammy Stine (Robert). Other survivors include her mother-in-law, Virginia Moore; brother-in-law, Bill Moore (Nancy); and sister-in-law, Lisa Moore. She fiercely loved her nieces and nephews, Rob Griffin (Trish), Justin Fox (Lauren), Alex Westmoreland, Andrew Westmoreland, Gordan Stine and Adrianne Blackwelder (Adam). Sherry was a great aunt to Jackie, Samantha and Matt Mansfield, Braelyn, Emmalyn and Grady Blackwelder as well as Noah, Mora and Reid Davis. Sherry was loving referred to as "Aunt Memaw" by Logan, Ian and Benjamin Fox.
Sherry was preceded in death by her parents, Leonard Fox and Betty Troutman Fox; her father-in-law, Jim Moore; nephew, Casey Fox; and niece, Amber Davis.
Sherry wore many hats over her working career, but her last job at East Iredell Elementary School was her favorite. While she never had children of her own, all those students were her "East Babies" and to them she was Mrs. Moore, who handed out hugs, treats and love to them all. Sherry had an infectious laugh, a wicked sense of humor and was never shy about sharing her opinion. She had the smoothest dance moves but could not carry a tune in a bucket. Bobby loved and appreciated her keeping an immaculate house and her appearance sharp. She leaves behind a hole in all those who loved her.
A celebration of life will be held at 3 p.m. on Wednesday, August 10, 2022, at Beulah Baptist Church with Rev. Brian Burgess officiating. The family will speak with friends following the service. Please wear bright colors as she so disliked the color black.
Donations in her honor may be made to the Rescue Ranch of Statesville, 1424 Turnersburg Highway, Statesville, NC 28625. Further donation details are available at www.rescueranch.com.
Troutman Funeral Home is serving the family.