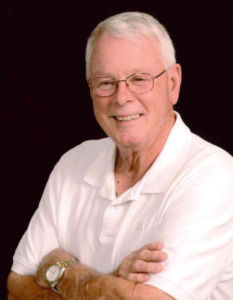 Stephen "Steve" Brady Heintz of Statesville, N.C., took his last breath here on earth around lunchtime at Atrium Baptist Hospital in Winston-Salem, N.C., on Friday, October 21, 2022. He passed away with his family by his side after they took time to sing his favorite hymns and recall precious memories of their time together.
Steve was born in Baltimore, Md., on July 26, 1943, and then lived in Sumter, S.C., with his parents and brother Mike prior to moving to Statesville in 1955. He graduated from Celeste Henkel School in 1961 with many friends he still enjoyed spending time with over the next 60 years. After graduating from Celeste, he attended Catawba Valley Technical Institute and North Carolina State University. On May 15, 1965, he married Shirley Faye Cook, and they were blessed to celebrate 57 years together.
After college he went to work as a draftsman at Kewaunee Technical in Statesville before moving to Charlotte several years later, when he became supervisor of the tower crane division at Owsley and Sons. His family returned to Statesville in 1977, so he and Mike could focus more on building and drag racing their late 1960s Camaro. This joint venture began what came to be officially known, since about 1979, as "Heintz Bros. Automotive." With Mike's love and knowledge for building and rebuilding engines, and Steve's desire to forge new relationships in the performance parts industry, Heintz Bros. has become a name that is synonymous with one simple word: Racing. After many years of hard work and success, they were named to the North Carolina Drag Racing Hall of Fame in 2013, a distinction they earned and deserved, yet were honored and humbled to receive. Today, Steve and Mike's love for racing carries on at the original location on Old Mountain Road in Statesville, as well as at Heintz Performance, a company that Steve's son now owns and operates in Concord, N.C.
Besides being a duo of the Heintz Bros., Steve was known for his love for his church and community, as well as for his servant's heart and giving spirit everywhere he went. His family knows that he touched numerous lives, many of which they may still be unaware of due to his nature to help without recognition. As a member of Beulah Baptist Church since he was a teenager, he served his church family as a deacon and Sunday School teacher most of his adult life. But one of his greatest joys was singing "good ole Gospel music" as a bass in Beulah's choir. He also loved being active in the West Iredell Ruritan Club, of which he and his father were charter members. Steve served in numerous positions throughout his years of membership, earning Ruritan of the Year in 2014, a title his father had earned before him. There truly will be a void where Steve served—one that may be difficult to fill for a very long time.
Steve left behind many treasured friends, in addition to a charitable influence that has been felt much further and wider than North Carolina. However, those who will miss him the most are his loving family; first and foremost, his wife, who sacrificed much time with her husband many weekends over the years, allowing him to pursue and continue living his dream. Shirley's love proved to be the mainstay in Steve's life, especially after his recent diagnosis with Parkinson's disease. Besides his wife, he will be missed dearly by his children and grandchildren, but they have many fond and fun memories of their years with him—it was truly obvious to everyone he knew that they were a source of pride and joy for him. Sadly, times at Grandmommy and Popie's house on holidays, extended weekends in Bluffton, and time during the family's yearly Topsail Island vacations will never be the same without their dad and Popie, especially as they came to expect his breakfasts of country ham, eggs, grits, and biscuits.
Nevertheless, his family knows that he has been reunited with his parents and brother and is rejoicing today with his Lord and Savior, Jesus Christ. What a comfort for them to know he is completely healed, and they will see him again one day.
Steve was preceded in death by his parents, Gabe and Elmere Heintz, as well as his brother, Mike Heintz. He leaves behind his wife, Shirley (Cook) Heintz; his children, Scott Heintz, Stephanie (Richard) Wood, and Sarah (Phillip) Morrow; and five grandchildren, Alaina (Garrett) Harshbarger, Nathan and Gabe Heintz, and Brinkley and Braylen Morrow. In addition, he is survived by his sister-in-law Cynthia Heintz, niece Jennifer Heintz, and nephew David Heintz.
Visitation will be held in the sanctuary of Beulah Baptist Church, 1851 Old Mountain Road in Statesville, on Monday, October 24, from 6 to 9 p.m. with funeral services the following day at 4 p.m. A private family burial will take place on Wednesday, October 26, at Iredell Memorial Gardens. In lieu of flowers, the family kindly requests that memorials be made to Beulah Baptist Church and designate either Child Evangelism Fellowship (Good News Clubs) or Fellowship of Christian Athletes. These were two organizations that Steve was passionate about as they help lead young people to Jesus and support their walk in the Christian faith.
The family would like to take this opportunity to thank their friends and extended families for so many prayers, comments, cards, and just the outpouring of love and support they showed during the weeks of Steve's hospitalization and passing. They also want to say a very special "thank you" to the many doctors and nurses at Baptist Hospital, specifically in the CCU, who fought every step of the way to preserve Steve's life, while caring so deeply and personally for his family. Online condolences may be made to the family at www.troutmanfuneralhome.com.
Troutman Funeral Home is serving the family.