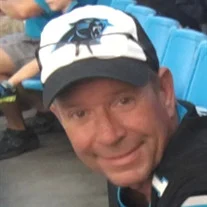 Steven Brett Darne, 58, of Mooresville, N.C., passed away on Monday, August 15, 2022.
He was born on June 10, 1964 in Fairfax, Va., to Robert and Shirley Darne. Steven was employed with Joe Gibbs Racing in Huntersville. He enjoyed racing as a driver and crew member, family, cooking, and camping, and was a dog lover.
In addition to his parents, Robert and Shirley, he is survived by his daughter, Abby Darne; stepson, Kyle Harrington; beloved wife of 20 years, Wendy Darne; brother, Mike Darne (Shannon Conroy); sister, Kelly Darne; nieces and nephews, Kara, Braeden, Allyson, and Cameryn Conroy, Brittney Darne, Tyler Wolfe (Katelyn), and Heather Wolfe; great nieces, Lynnlee and Cayleigh; and great nephews, Cameron, Carter, and Cayden.
The family will receive friends on Thursday, August 25, from 3 to 4 p.m. with a service following at 4 p.m. at Cavin-Cook Funeral Home, Mooresville.
In lieu of flowers, memorials may be made to an education fund for his daughter Abby his pride and joy. Checks may be made payable to Abby Darne.
Cavin-Cook Funeral Home & Crematory, Mooresville, is serving the Darne family. Condolences may be made to the family at www.cavin-cook.com.