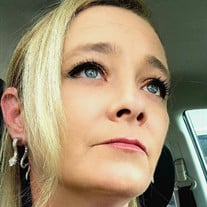 Theescha Renea Proctor, 44, of Mooresville, N.C., passed away on October 25, 2022.
She was born on September 28, 1978, in Mooresville, N.C., to Deborah Martin Kluttz and the late Michael Proctor. Theescha attended South Iredell High School and graduated from Pinnacle Institute of Cosmetology. She was a member of Elmwood First Baptist Church in Statesville, N.C.
She loved and lived life wide open. Her pedal was always to the floor, with braking as little as possible. She found her true calling as a stylist. Theescha loved doing make up and styling hair for her nieces, cousins, and friends. Her final love was her job at Snip-its at Birkdale cutting children's hair. She was so thrilled to give her first grandchild his first haircut.
She is survived by her children, Chance Martin, Morgan, Katrina, and Chris Johnson; mother, Deborah "Cotton" Martin Kluttz; fiancé, Aaron Lee; brother, Bradley Proctor; and her special beloved grandson, Carson Kearns.
The family will receive friends on Tuesday, November 1, from 12:30 to 2 p.m. with a service following at 2 p.m. at Cavin-Cook Funeral Home.
Cavin-Cook Funeral Home & Crematory, Mooresville, is serving the Proctor family. Condolences may be made to the family at www.cavin-cook.com.