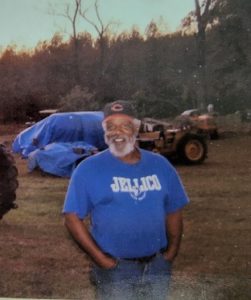 Mr. Thomas Coston "T.C." Murdock Jr., 80, was born in Iredell County, N.C., on August 14, 1942, and was the son of the late Thomas Coston Murdock Sr. and Rita Tomlin Murdock. He departed this life on Tuesday, August 23, 2022, at Iredell Memorial Hospital in Statesville, N.C.
Thomas graduated from Unity High School in 1960 and attended CPCC, where he studied air conditioning and automotive. He attended Freedom Presbyterian Church at an early age and was later a member of The Living Church of God. He served in the U.S. Army in Germany. At one time, he was employed as a truck driver for A.G. Trucking and worked as a forklift operator at General Tire & Rubber Company for 30 years.
In addition to his parents, he was preceded in death by his brother, Alphonzo Tomlin; and his two sisters, Beatrice Borders and Carolyn White.
He leaves to cherish the memory of his life his wife, Tillie Brown Murdock; two sons, Timothy (Misty) Murdock and Eric (Voula) Murdock; one daughter, Vashti McClelland; one brother, Pinkney Murdock; a sister-in-law, Willie Bell Chambers; eight grandchildren, Amanda "Mandy" McClelland, Torery McClelland, Coston Murdock, Timothy Murdock, Stephanie Murdock, Samantha Murdock, Alexis Murdock, and John Thomas Coston Murdock; eight great-grandchildren, Tyrick McClelland, Treshon McClelland, Jordan McClelland, Jacob McClelland, Jada McClelland, Kalleb McClelland, Jay'lon Murdock, and Jayvion Murdock; one great-great-grandchild, Emerald McClelland; and a host of nieces and nephews, cousins, other relatives, church family, and friends.
A Celebration of Life Service will be conducted, Saturday, August 27, 2022, at 3:30 p.m. at Freedom Presbyterian Church, Statesville. The family will receive friends from 3 to 3:30 p.m. at the church. Burial will follow in the church cemetery.
Visit the Book of Memories for Mr. Murdock at www.rutledgeandbigham.com.
Rutledge & Bigham Funeral Home is serving the Murdock family.