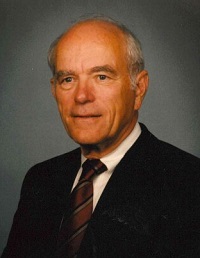 Thomas Duke Williams Jr., 97, died on June 8, 2022.
Williams was born May 14, 1925, in Louisville, Ky., to Rev. T. Duke Williams and Gladys Cotton Williams. As the son of the Presbyterian minister in tiny Augusta, Ky., a town on the Ohio River, he grew up with the love of water and an appreciation for the value of community.
Williams matriculated at Duke University but left during his freshman year to enlist in the U.S. Navy for service during World War II. He served as a radioman on a destroyer in the Pacific. During this time his ship was among vessels escorting Gen. Douglas MacArthur from Manila and he had the opportunity to see the famous general in person.
When he returned to college in Durham, Williams met his wife, Edith Young Andrews, whom he married on August 27, 1948. In addition to his wife, he is survived by Edith W. Holland (Walter) of Statesville; Thomas Duke Williams III (Nancy) of Durham; Andrew Cotton Williams (Cathy) of Atlanta; Jane W. Smith (Bob) of Durham; and Mary Anne Inglis (Bob) of Travelers Rest, S.C. In addition, he is survived by 16 grandchildren, 15 great-grandchildren, and a sister, Glady W Sweat (Charles) of Amelia Island, Fla.
Williams graduated from Duke University with a business degree and moved to Statesville in 1955 to join Webb Insurance Agency, where he was president for many years. In 1961, he earned the Chartered Property Casualty Underwriter certification, a highly respected accomplishment in his profession. He later served as President of the N.C. Independent Insurance Agents Association.
Once settled in Statesville and in North Carolina, he made them his own. His motto of "Give what you can" extended to time, resources, leadership and energy. He led a variety of community agencies and non-profit boards during the 60 years he lived in Statesville.
In 1969, Williams became chairman of the first board of the Statesville Housing Authority, serving for seven years and continuing as a hearing officer after his term. He considered that work among his most fulfilling community activities. Additionally, he served as president of the Statesville Rotary Club, as the initial chair of Crimestoppers, on the boards the Piedmont Council of Boy Scouts of America, the United Way of Iredell County, the Arts & Science Center (now Iredell Museums), the Iredell Arts Initiative, the Iredell County Visions of Quality of Life Task Force and the Iredell Memorial Hospital Board of Trustees. He chaired the Statesville Chamber of Commerce in 1984 and led the drive to convert the process of municipal elections in Statesville to voting by Ward.
In 1982 the Greater Statesville Chamber of Commerce selected Williams for their Outstanding Citizen of the Year award. In 1995, he was selected as the United Way Benefactors Club nominee.
Williams was a member of First Presbyterian Church in Statesville, where he served as Sunday School superintendent, a member of the board of deacons, a ruling elder and treasurer.
In 2015, the Williamses moved to The Pines at Davidson, where he had previously served for a number of years on the Board of Directors. They continued to consider Statesville their home. In Davidson, Williams continued his lifelong habit of reading widely and deeply; of giving attention to current world events; of engaging in the life of the mind through music, theatre, sports viewing and conversation; of interest and involvement in the lives of his family.
A graveside service will be held at Maplewood Cemetery in Durham, N.C., at a date yet to be determined.
Memorials can be directed to First Presbyterian Church, 125 N. Meeting Street, Statesville, NC 28677; Boys & Girls Club of the Piedmont, 1001 Cochran St, Statesville, NC 28677; Fifth Street Ministries, P.O. Box 5217, Statesville, NC, 28687; The Pines at Davidson Residents' Fund, 400 Avinger Lane, Davidson, NC 28036.
Troutman Funeral Home is serving the family.