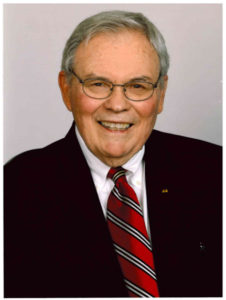 Thomas Edwin Gish, 83, of Statesville, N.C., passed away Tuesday, December 6, 2022.
Tom was born on March 25, 1939, in Jackson, Mich. He was the son of the late Lottie Lee Eblen Gish and Henry Herman Gish. He was a 1957 graduate of Jackson High School and a 1962 graduate of Western Michigan University, where he was a member of Tau Kappa Epsilon fraternity, He faithfully served his country in the Michigan Air Nation Guard. He married his wife Beverly in 1985, and together they shared more than 35 years of marriage. Tom's career was with Clark Equipment Company, where he held managerial and administrative positions, including an assignment for two years at TREMEC in Queretaro, Mexico. During his time at TREMEC, he founded Michigan Export Company in Jackson, Mich. He transferred to North Carolina in 1983 with Clark Equipment. Tom was a devoted husband, father, grandfather, and friend.
Tom and his wife Beverly jointly owned a REMAX franchise in Statesville. In 2000 he served as president of the Statesville Country Club. He also served as president of the Statesville Rotary Club and was honored with a Paul Harris Fellow. His hobbies included golf, fishing, spending time with family, vacationing in Myrtle Beach, S.C., and Au Train, Mich.
Those left to cherish the life and memory of Tom Gish include his wife, Beverly Grigg Gish; his daughters, Mary Lynn Freeland and husband Ken, and Amy Gish; his son, Thomas Gish Jr.; grandchildren, Scott Freeland, Erica Scott and husband Jason; his stepdaughter, Mellissa Wimberly and husband Bruce; and step-grandchildren, Bridget King and Bradley King. Also surviving are his precious doggies, Bogey and Mandy.
A funeral service will be conducted at 2 p.m. Wednesday, December 14, 2022, at Troutman Funeral Home Chapel. Burial will be at a later date in his hometown of Jackson, Mich.
The family extends special thanks to Carolina Caring Hospice for their support during Tom's long fight with Multiple Sclerosis.
In lieu of flowers, those wishing to make memorials are asked to consider the National MS Society, Carolina Caring or to the charity of the donor's choice.
Troutman Funeral Home is serving the family.