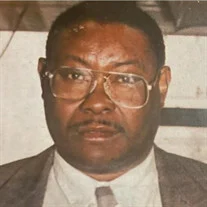 Edner Seme, 74, of Statesville, N.C., died Wednesday, November 30, 2022, at his residence. Mr. Seme was born in Haiti to the late Julice and Marie Andremise Seme.
He was a loving husband, a great father and very people friendly. After retiring, he enjoyed volunteering at his local hospital, where he was loved by the whole staff. Whenever Edner walked into a room, he was always seen dressed up as if a celebrity was walking into a room.
Mr. Seme is survived by his wife, Eliette Seme; his children and grandchildren, brothers and sisters, nephews and nieces as follows, Marie Guerda Neptune, husband Jacques Etzer Neptune and son Chris Neptune; Jhon Waker Seme, wife Ginette Seme and sons Jhon Kenny and Nathaniel Seme; Jimmy Fred Seme, fiancée Fabienne Edouard and children Marie Francesse, Jymmerline Seme, Marie Flora Samberg Seme, Shadrack Armstrong Seme (deceased), Jimmerson Hendrik Seme, Julice Andre Harland Seme, Rivalson Seme, Claudia Seme and Abigael Seme; Edner Junior Seme (deceased), wife Tiesha Seme and children Lanie Seme and Edren Seme and Stacy Etienne; brothers and sisters: Anne Marie Seme (deceased) and daughter Nathalie Seme; Yves Joseph Seme, fiancée Marie Carmelle and children Junior Seme, Djyna Seme, and Bedjyna Seme; Jean Marcel Seme, wife Claire Seme and children Marvin Seme, Oneil Seme, Joevensky Seme, Crystel Seme, Brittney Seme, and Eric Seme; and Gislaine Seme Thomas, husband Gary Thomas and son Ismael Thomas.
Funeral service will be held Saturday, December 17, 2022, at 11 a.m. at St Philip Catholic Church, 525 Camden Drive, Statesville, NC 28677. Interment will follow at Oakwood Cemetery.
The family will visit with friends and family on Friday, December 16, 2022, from 6 to 8 p.m. at Nicholson Funeral home in Statesville, N.C. Following the visitation, the family and friends will gather Friday, December 16, 2022, from 8:30 to 10:30 p.m. at Hampton Inn, 1505 Cinema Drive, Statesville, NC 28625.
Nicholson Funeral Home is honored to serve the Seme family.