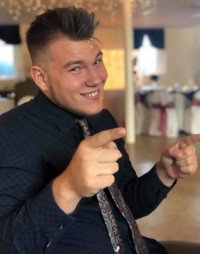 Timothy Daniel Cothron Jr., known to most at TJ, Tim, or Timmy, was born on April 23, 2003, to Timothy Daniel Cothron and Stefanie Trista Duck. He was born in Muskegon, Mich., where he was surrounded by many family members and created so many fine memories as a young boy.
In 2006, TJ's mom met his dad, Michael Botbyl. They married in 2010, and then moved to North Carolina in 2011 where they raised TJ and his little brother, Zachary. The two of them were a dynamic duo and best friends throughout life. Here they created so many more memories with another community of people. TJ was baptized at Troutman First United Methodist Church. Throughout TJ's life he was active in many groups, clubs, and sports where he met so many more friends. TJ never knew a stranger and because of his outgoing personality and love for others our community grew even bigger. From Boy Scouts, soccer, baseball, basketball, wrestling, robotics club, cyber patriots, band, chess club, to JROTC, he gained so many friends and people who even became like extended family.
In 2015, TJ met this beautiful girl Sarah Powell, who not only was our neighbor, but grew to be the love of his life. She colored his world, and his life wouldn't have been complete without the love they had. TJ graduated from South Iredell High School in June of 2021. He was employed at Walmart Distribution Center in Troutman, N.C. Though he was so young, he was so wise and his ability to love others was clearly shown though Acts of Service. He volunteered with the Miss Amazing Program (a pageant for special needs girls), celebrating "Be Kind Day" with his mom, brother and cousins to distribute over 900 donations with a day filled with random acts of kindness, participated in many outreach opportunities with church and youth group with Sarah. He was always willing to help anyone who asked and brought light to everyone's world he entered. TJ passed away unexpectedly on February 17, 2022, with so many answers left unknown.
He is survived by his parents, Stefanie Leclercq, Michael Botbyl (Andra), and Daniel Cothron; his brother Zachary Cothron and other siblings, including Kailyn Johnson, Eden McWalters, and Andrew Cothron. His grandparents are Janet Woodring, Karl and Cheryl Botbyl, Eugene "Ski" and Sherry Jakubowski, and Brenda Singleton. Also surviving are many aunts and uncles, including Danielle Woodring (Derrick), Jennifer Jones, Karl Botbyl Jr. (Dana), Stephanie Miel (Dave), Nelson Botbyl, Bradley Singleton (Shannon), Andrea Luurs (Jake), Jayson Singleton (Melody), Stephanie Singleton, Jacqueline, Jenae Singleton (Jacob), Mike Shank (Dee), Joe Shank (Carla) and Maggie Wright. TJ also has many, many great aunts, great uncles, cousins and extended family in Michigan, South Carolina, North Carolina, Georgia and Hawaii.
He was preceded in death by his sister, Kobi Renae Cothron; grandpa, Doug Singleton; uncle, Todd Singleton; and many great grandparents.
Services will be held on Thursday, February 24, 2022, at Bunch-Johnson Funeral home at 705 Davie Avenue in Statesville. Visitation will be from 1 to 3 p.m., with the service immediately following at 3 p.m.
Graveside burial ceremony will follow at Oakwood City Cemetery. Condolences may be sent to the family online at http://www.bunchjohnsonfuneralhome.com.
Bunch-Johnson Funeral Home is honored to be entrusted with the care of Mr. Cothron and his family.